On August 21, 1415, the King of Portugal John I, with his sons Dom Edward, Dom Pedro and Dom Henry the Navigator, disembarked on the beach of Santo Amaro in Northern Africa and conquered Ceuta for the Kingdom of Portugal.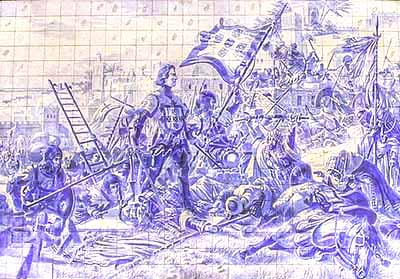 The Portuguese conquest of Ceuta - in the center Prince Henry the Navigator, who played an important role in this victory

After that battle, however, came the more difficult job of holding the beachfront against an anticipated attack by formidable numbers of the Marinid Moors of Morocco. King John I, therefore, began to look for one of his nobles to be left in charge of the undermanned Portuguese garrison after the King returned to Portugal.

Pedro de Menezes, the young Count of Viana de Alentejo, was nearby, distractedly playing a kind of medieval hockey with a gaming stick called an aléo, made from the wood of a wild olive tree. Hearing all the high nobles making excuses to avoid taking on the dangerous job, he stepped forward and approached the King with his gaming stick in his hand.

"I alone with just this stick can defend Ceuta from all the power of the Moors," he affirmed. Admiring the gesture of the young nobleman, the King confided to him, despite his young age, the defense of the Ceuta. The King soon departed, leaving Dom Pedro with a garrison of only 1600 soldiers.

In 1418 the Moors had gathered an army of more than 30,000 men and laid siege to the city. Pedro de Menezes managed its defenses of the citadel, while Prince Henry and another of his brothers, Prince John, were dispatched with a reinforcement fleet from Portugal. But the relief troops were unnecessary. In a bold gambit, Dom Pedro de Menezes led the Portuguese garrison in a sally against the Moorish siege camp and forced the lifting of the siege before the relief fleet arrived.

As reward for his valor, the King named him the first Portuguese Governor of Ceuta, investing him with a gaming staff, the aleo, as a symbol of the noble gesture that had won him the title. That stick was conserved in the Governor's Palace and passed on to all the future Portuguese Governors of Ceuta when they took the office.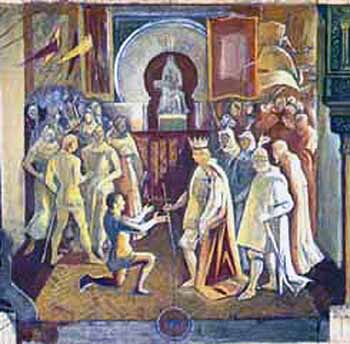 The King delivers the gaming stick - the aleo - to Dom Pedro & appoints him Governor of Ceuta

The noble Count of Viana was Governor of Ceuta for 22 years, making a constant defense against attacks from the Moors who made every effort to retake the city. Among the many stories told by the chroniclers of Dom Pedro de Menezes is that he wore one coat of mail continuously for 16 years, always in preparation for the attack, wearing it out before finally taking it off.

In 1424, Pedro de Menezes returned to Portugal and was invested with his mother's dominions as the first Count of Vila Real by King John I of Portugal. The legendary gaming staff made of olive wood, the aléo, was put on his standard and arms. Until today it is found on the coat of arms of the city of Vila Real to commemorate its first Count.

Referring to Dom Pedro de Menezes's aléo episode in his epic poem, the famous 16th century Portuguese poet Luís de Camões wrote: "So long as from sturdy, wild olive trees, the Lusitanians can find gaming sticks and the ancient valor that first made them so famous in the world, do not fear, Frondelio, my companion, that they shall be subdued at any time" (Ecloga).

Two founders of Religious Orders would come from the lines of the First Count of Vila Real: a grandson, Blessed Amadeo of Portugal, who established a reformed branch of the Order of Friars Minor, and a granddaughter, Blessed Beatriz da Silva, founder of the Order of the Immaculate Conception.



Adapted from Zephyrino N. G. Brandão, Monumentos e lendas de Santarem,
Lisbon: D. Corazzi, 1883, pp. 513-515
Posted March 10, 2012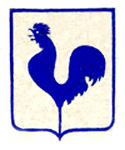 Related Topics of Interest

Hernan Perez del Pulgar, "The One of the Valiant Deeds"

The Miracle of Ourique and the Birth of Portugal

Honor, a Counter-Revolutionary Virtue

Don Pelayo and Our Lady of Covadonga

Dom Sebastian, the Star of Portugal

Beatriz da Silva, Founder of the Conceptionists

Related Works of Interest