With truthful simplicity, the pastor of the Church of St. Martin relates this miracle that took place in the city of Metz, Germany, in the mid-19th century.
At the age of thirteen, Ann de Clery, who was the daughter of a distinguished magistrate of the city who is still living, was sent to school at the Convent of the Sacred Heart at Metz. Soon after she arrived, her health began to decay, and after several serious illnesses, her malady assumed the form of the disease that her Paris physician described as 'muscular and atrophical paralysis.'

For more than nine years she lingered in a state of infirmity, pronounced by one doctor after another as incurable. In 1859 her physician had declared that she would be a cripple as long as she lived.

From that time - that is, from the middle of the year 1859 up to the present time -Mlle. de Clery had not been attended by any physician. Her mother alone watched over her health. Her infirmities kept increasing. She could hardly digest any food. Her thinness and weakness were pitiable. Violent headaches, three or four times a week, added to her suffering. She could not be laid on the bed or couch without suffering intense pain, and at such moments a strange effect of these paroxysms was visible in her face. Her eyelids became inflamed and took on a purple color. This gave her countenance an indescribable appearance of suffering.




A Catholic custom: street flower tapestries for the Corpus Christi procession - From the top, Barcelona, San Isidro, Puente Areas, Tenerife, Itapecerica & Palermo

The paralysis was beginning to affect her arms, the only limbs she had hitherto retained the use of. It was feared that she would soon lose her principal means of occupation and recreation within her reach - the exercise of her skill in fancy handwork and embroidery. The future prospects of this young lady seemed sad indeed to human prevision, but the time was at hand which God in His wisdom had fixed upon for the fulfillment of His merciful designs.

Her resignation to God's will was most complete. For several years, a priest brought her Holy Communion every week, and she spent her time in embroidering altar cloths or making artificial flowers for Corpus Christi.

Last June, she felt a great longing to be carried to the St. Martin's Church for the Forty Hours' devotion, which was to take place on the 12th, 13th, and 14th of that month. The state of her health prevented the accomplishment of her wish until the third day.

On the morning of June 14, Ann received Communion in her bed. At twelve o'clock, which was the hour of adoration assigned by the parochial regulations to the inhabitants of the street where the Hotel Coetlosquet is situated, she was carried to the church like a baby of a few months - she, now a woman of 23 years of age - by her maid Clementine. The maid sat down on a bench on the left side of the nave and held her mistress Ann on her knees. Madame de Clery and Mlle. Therese de Coetlosquet knelt, the one by her side and the other on the bench behind, in order, as much as possible, to screen her from observation. Madame and Mlle. Paulin de Coetlosquet, who had preceded them, were kneeling in another part of the church. Neither the invalid herself nor any of her friends were expecting the extraordinary event about to take place.

The miracle

After a few moments' rest from fatigue – which was producing, as usual, a purple flush in her eyelids – Ann fixed her attention on the Blessed Sacrament. After some moments of silent adoration, she said the prayer she would often say at the moment of Communion: 'Lord, if Thou so wills it, Thou can cure me.'

At the same instant, she felt so violent a pain in her whole body that it was all she could do not to scream out. She prayed earnestly for strength to bear it and then added: "My God, if it is Thy Will that I must leave Thee and be carried back to my sick bed, give me grace at least to be always resigned to Thy Holy Will."

I cannot describe what then happened between God and her soul. She says she felt penetrated with faith and hope and, as she expresses it, became conscious that she was cured. She wanted to kneel.

Her maid whispered to her, "Mademoiselle, you will fall down?" But Ann threw herself on her knees, and said to those about her: "Pray! Pray! I am cured!" These words filled them with astonishment; tears and sobs mingled with their prayers.

Madame de Clery, overwhelmed with emotion and in a state of bewilderment, not knowing what to think or to believe, led her daughter out of the church. She could not believe the evidence of her senses when she saw her daughter standing on her feet and then walking.

They went into a summer house in the adjacent garden, and there the mother ascertained that the knots under her daughter's knees had entirely disappeared. Ann entreated to be allowed to return to the church, where she remained for three quarters of an hour kneeling before the Blessed Sacrament, without feeling the least fatigue and pouring forth praises and thanksgivings.

When I was told what happened, I went to the summer house, but could not attend to any of the persons assembled around Ann. I could only look at her in silence and astonishment, while, with intense gratitude to God, she showed me that she could stretch out her limbs, walk, kneel and hold up her head without effort. She was completely cured.

God had done the work, and His work – accomplished in an instant – was perfect. All the ailments that had afflicted her had disappeared at the same time as the paralysis, and she showed no signs of the weakness that normally follows a recovery from a long illness. Numerous proofs evinced this.

The hour of vespers was at hand. Ann said she wished to be present at the service. Following the dictates of natural prudence – for I was not certain how far, in restoring her health, God had also given her strength back to her – I advised that she should rest, or at least if she were bent on coming to the church that day, that she should wait in the summer house until the time of Benediction.

She complied with my request, but when the hymn Pange lingua, resounded in her ears - 'Sing, my tongue, the mystery of the glorious Body of Christ' - she could not remain still there, and hastened to join the crowd that filled the church.

The next day, which was the Feast of Corpus Christi, she heard a Mass in thanksgiving and went to Communion, kneeling at the altar among all the other communicants, a happiness she had not enjoyed for nine years. She was present during the whole of the High Mass, which is celebrated every Thursday in honor of the Blessed Sacrament. In the afternoon she was again in the church, kneeling before the altar and pouring forth the expressions of her ardent thanks.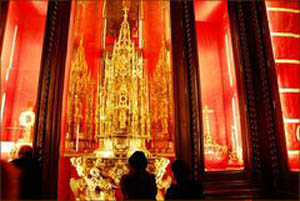 Adoration of the Holy Sacrament, Toledo Cathedral

Three days afterwards – that is, on the Sunday on which the Feast of Corpus Christi is kept in France – Ann spent seven hours in the presence of the Blessed Sacrament, hearing Mass, attending Benediction or visiting Our Lord at other times. When she was urged to moderate her devotion and to conserve her strength, she replied that, far from feeling the least fatigue, she experienced an increase of strength and vitality whenever she approached our Blessed Lord. The miracle is introduced to us under the double warranty, so to speak, of the Pastor of St. Martin at Metz, who narrates it, and the Bishop of Metz, who endorses the narrative with his imprimatur in the following words:

Bishop's palace, Metz

"Having considered the following narrative to be as edifying as we know it to be strictly conforming to truth, we have approved of its publication. It is scarcely possible to imagine anything more likely to awaken in the hearts of Catholics earnest sentiments of faith, trust and love for Our Lord Jesus Christ in the Blessed Sacrament of the altar and to increase our devotion to the Institution of Perpetual Adoration than this simple recital of what took place in the Church of St. Martin during the religious services of that holy time.

"It would seem as if Our Blessed Lord had wished to show by a signal favor how acceptable is this homage to His Divine Heart and had chosen for that token the sudden and miraculous cure of a young woman whose faith had led her to fall at His feet and to cry out with lively faith and humble confidence, 'Lord, if Thou so wills it, Thou can make me whole!' "

+ Paul, Bishop of Metz At Metz, September 8, 1865



From The Blessed Eucharist, Fr. Michael Müller,
Baltimore, Kelley & Piet, 1868, Chapter 14
Posted on June 30, 2012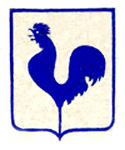 Related Topics of Interest

The Origin of the Feast of Corpus Christi

Counter-Revolutionary Role of the Sacred Heart Devotion

Our Debt of Gratitude to the Holy Eucharist

The Eucharistic Miracle of Lanciano

The Eucharistic Miracle of Avignon

The Value and Efficacy of the Holy Eucharist

Related Works of Interest