Stories & Legends
Tuotilo, the Monk of St. Gall
The chronicler, Eckehard IV, tells about Tuotilo, monk of St. Gall (850-915). Born in Ireland around 850, he was educated at the Abbey of St. Gall in St Gallen, present day Switzerland. He remained to become a monk there.
A man of great physical strength and stature, he was a painter, sculptor, musician, poet and composer of music for harp and other strings and head of the cloister school. Eckehard also praises his skill in casting out demons. But he is best known, he tells us, for his obedience, recollection and aversion to publicity.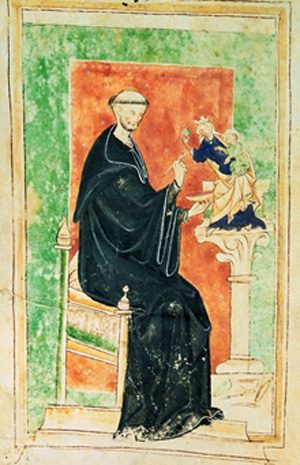 Our Lady directs the work of the monk
Eckehard describes him thus:
"Tuotilo was eloquent, clear of voice, a polished workman in carving and paint. He was musical, even as his companions were, but surpassing all in every kind of string and pipe, and he taught the cithara also to the sons of the nobles in a building that the abbot had set apart for them.
"He was endowed by nature with a strong body and mind, and with a ready command of both Latin and German; entertaining both in the serious and in the jocund vein but the sight of anything unseemly never failed to excite his indignation.
"But with all these qualities he had one more excellent: in secret prayer he had the gift of tears. He was chaste, as a disciple of (the famous schoolmaster) Marcellus (of St. Gall), who shut his eyes before women."
The only woman for whom he professed a great love was the Virgin Mary, and to her he had a deep and tender devotion. And she also had a great love for this monk, as we can see from the following story.
While Tuotilo was working at his sculpture in Metz, two pilgrims came to him as he carved a statue of the Blessed Virgin and begged for alms.
He slipped some money into their hands, and as they moved outside the room where he was working, they said to a cleric who passed by, "God bless that man who has been so merciful to us today. But was that his sister? That lady of wondrous beauty who is so serviceable to hand him his chisels and teach him how to use them?"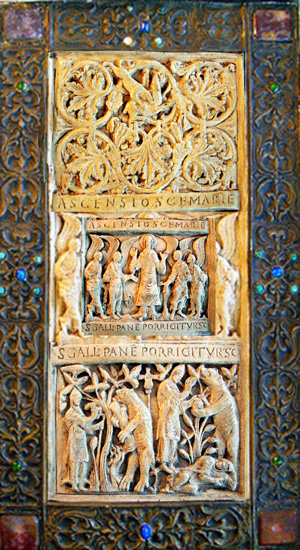 An ivory plate sculpted by the monk Tuotilo
The cleric marveled at their words, for he had but lately parted from Tuotilo and had seen no such lady. Wherefore, he went back, and for one quick moment, he saw what they had described.
Then he and the pilgrims went to Tuotilo and said, 'Father, blessed art thou of the Lord, who has so great a lady to instruct you in your work."
But Tuotilo replied that he did not know what they were talking about, and he forbade them most strictly to say any such thing to others. But the temptation to tell what they had seen was too great, and the next morning many persons had heard the report of this glorious thing. So Tuotilo withdrew himself from them and departed, nor would he ever thenceforward continue his work in that city.
But on the gilded nimbus, where he left a plain flat surface, some other hand has since carved these letters, 'This holy object was carved by Holy Mary herself'
Hoc panthema pia celeverat ipsa Maria.
Although it has disappeared from sight, this statue was still extant in his time. Eckehard, who was writing 100 years after the monk Tuotilo's death, describes it: "The image itself, seated, and seeming as though it were living, is an object of all beholders even unto this day."
Finally, Eckehard expresses his belief that Tuotilo received the reward of his blameless life in the next world. He was buried in the Chapel of St. Catharine, which later on was dedicated to St. Tuotilo. It is uncertain whether he was formally declared a saint, although he was considered as one in the Monastery of St. Gall - for had he not exorcized the devils and wrought other wonders?
At
right above
, you see an ivory plate that he sculpted, which is the cover of the
Evangelium Longum
. It pictures the Assumption of the Virgin and St. Gall sleeping by the fire and St. Gall giving bread to the bear.
Adapted from G. G. Coulton, Art and the Reformation,
NT: Alfred Knopf, 1928, pp.55-57
Posted February 16, 2013