Stories & Legends
A Mother's Counsel
From the time of Charlemagne on, what we can call the mystique of vassalage existed. In countless vassals, this consisted of an interior life that forged an absolute dedication to their suzerains. This dedication became
the raison d'être
of Chivalry and Feudalism. The religious character of a vassal's sworn fidelity contributed immensely to nourish that flame.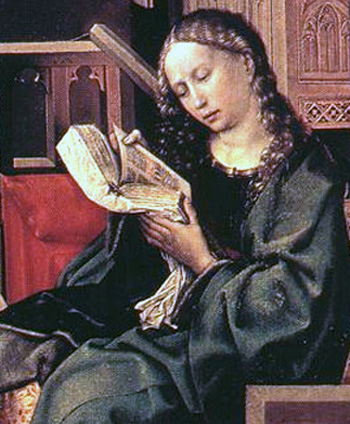 Dhuoda wrote a Handbook that she sent to her son William in the 9th century
This mystique is found in the exhortation addressed in 843 by a lady of high birth and great culture, Dhuoda, spouse of Marquis Bernard of Septimania, to William, her eldest son.
In the
Handbook for William
that she wrote, Dhuoda exhorted him to be faithful to the lord to whom his father had chosen to recommend him. There is no doubt that this Lord was Charles the Bald, the King of France himself. But he was a King whose power was contested at that time.
The whole context of this document shows that what the mother was demanding from her son towards Charles was the dedication that every vassal had towards his suzerain in that epoch. In this regard, the text fully reflects the mentality of the time. Here we reproduced some excerpts from the handbook she sent to her son.
"
Direction on your comportment toward your Lord
:
"Since God and Bernard, your father, have chosen Charles for you to serve as your Lord in your tender youth, I would have you act as is proper to your lineage, illustrious on both sides of your family.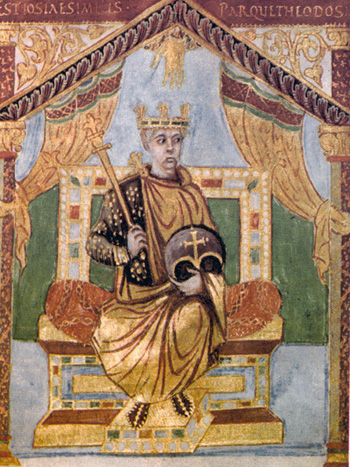 William was a vassal of Charles the Bald, above
"Do not serve him only in a way that pleases him in obvious ways, but also as one loyal to him with a pure and whole fidelity of body and soul. … That is why, my son, I exhort you to maintain this loyalty as long as you live, in your body and in your mind. …
"It is my desire that you can never be accused of the madness of treachery, never once, making you offer an angry insult. May the idea of being disloyal to your Lord in any matter never rise in your heart. There is harsh and shameful talk about men who act in this fashion. I do not think that such will befall you or those who fight alongside you because such an attitude has never shown itself among your ancestors. ...
"I desire that you, my son William, child of this good lineage, to be toward your Lord truthful, vigilant and energetic and to offer him ready assistance, as I have taught you to do. In all matters of importance to the royal power, take care to show yourself a man of good judgment – in your thoughts or in public – to the extent that God gives you strength.
"Read the lives and sayings of the holy Fathers who have gone before us. There you will discover how to serve your Lord and be faithful to him in everything. Devote yourself to the faithful execution of the orders of your Lord. Study and contemplate in History those who showed the greatest fidelity and perseverance in serving their Lords and learn from them the way to serve well.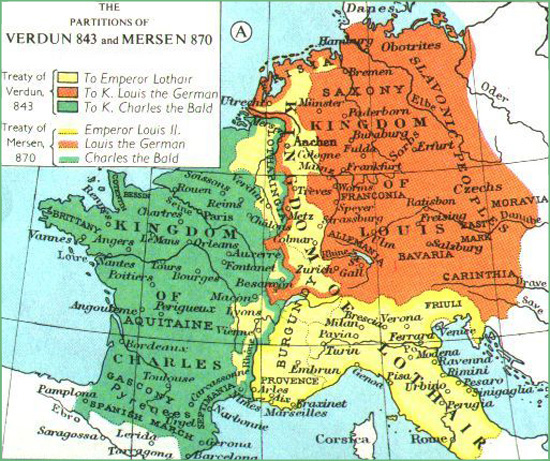 The Kingdom of Charles the Bald is the green section at left above.
Adapted from F.L. Ganshof, Que é o feudalism?
Europa-America, 1976, p. 51
Posted May 25, 2013