Stories & Legends
Five Hundred Francs in a Closet
On October 13, 1849, a woman named Eugenie van der Kerckove in the parish of Ardoye, in Flanders, died at the age of 52. Her husband, John Wybo, was a farmer. She was a pious and charitable woman who generously gave to charity in proportion to her means. To the end of her life she had a great devotion to the Blessed Virgin Mary, and abstained from meat in her honor on Friday and Saturday of each week. Although her conduct was not free from some faults, she otherwise led an exemplary and edifying life.
Eugenie had a servant named Barbara Vennecke, aged 28, who was known as a virtuous and devout young woman, and who had assisted her mistress in her last sickness. After Eugenie's death, she continued to serve her master, John Wybo, the widower of Eugenie.
About three weeks after Eugenie's death, the deceased appeared to her servant under circumstances that we will now relate. It was in the middle of the night. Barbara was sleeping soundly when she heard her name called distinctly three times.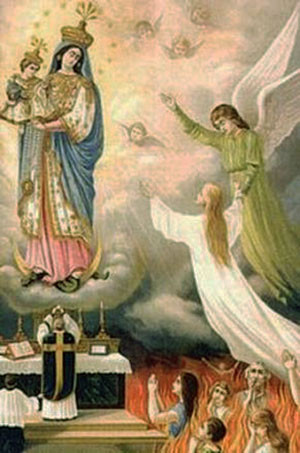 A Poor Soul is liberated from Purgatory by the power of a Mass said in its intention
She awoke with a start, and saw Eugenie before her, sitting on the side of her bed, clad in a working dress, consisting of a skirt and short jacket. At this remarkable sight, Barbara was seized with astonishment.
The apparition spoke to her: "Barbara," she said, simply pronouncing her name. "What do you desire, Mrs. Eugenie?" replied the servant.
The mistress replied, "Please take the little rake that I often told you to put in its place; stir the heap of sand in the little room; you know to which one I refer. You will find 500 franks there. Use it to have Masses said, two francs for each Mass, for my intention, for I am still suffering."
"I will do so, Mrs. Eugenie," replied Barbara, and at the same moment the apparition vanished. After awhile she fell asleep again, and reposed quietly until morning.
On awakening, Barbara thought that perhaps it was all just a dream, but yet she had been so deeply impressed and wide awake, she had seen her old mistress in a form so distinct and full of life, and she had received from her lips such precise directions that she could not help thinking, "This cannot have been a dream. I saw my mistress in person. She presented herself before my eyes and surely spoke to me. It is no dream, but a reality."
She, therefore, immediately went and took the rake as directed, stirred the sand, and drew out a purse containing the sum of 500 red francs.
In such strange and extraordinary circumstances, the good young woman thought it her duty to seek the advice of her pastor before spending the 500 francs on having Masses said, and so she went to relate to him all that had happened.
The Rev. Abbé R., then parish priest of Ardoye, replied that the Masses asked by the departed soul absolutely must be celebrated, but, in order to dispose of the sum of money, the consent of the husband, John Wybo, was necessary, since the money was found in his house. The latter willingly consented that the money should be employed for so holy a purpose, and the Masses were celebrated, two francs being given for each Mass.
We call attention to the circumstance of the Mass donations, because it corresponded with the pious custom of the deceased. The fee for a Mass fixed by the Diocese at that time was a franc and a half. But, during her lifetime, Eugenie - through consideration and charity for the clergy, many of whom were quite poor - always gave two francs for each Mass that she asked to be said. Thus, the extra half a frank Mass offering that she normally made was an act of charity and an additional financial support for the priests who celebrated them.
Two months after the first apparition, while Masses were still being said for Eugenie's intentions, Barbara was again awakened during the night. This time her chamber was illuminated with a bright light, and her mistress appeared before her with a radiant smile, beautiful and fresh in appearance as in the days of her youth, and was dressed in a robe of dazzling whiteness.
"Barbara," she said in a clear voice, "I thank you! For I am now delivered from the place of purification." Saying these words, she disappeared, and the chamber became dark as before.
The servant, amazed at what she had just seen, was full of joy, and the remarkable story soon spread about the town. This apparition made an intense impression on her mind, and she preserves to this day the most consoling remembrance of it. It is from her that we have these details, through the favor of the Rev. Abbé R., who was pastor at Ardoye when these facts occurred.

Selected from F.X. Schouppe,
Purgatory – Explained, Tan Books, 1986, pp. 65-67.
Posted November 2, 2013