Stories & Legends
When a Pilgrim's Request Is Refused
The faithful have long been taught to be charitable to pilgrims. The 12th century "Baedeker" (Guide) for pilgrims to St. James of Compostela relates tales of what happened to those who neglected this duty of hospitality. This incident describes a pilgrim traveling to Santiago de Compostela.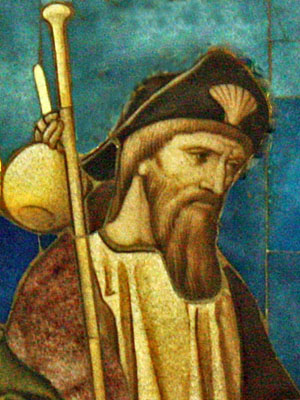 A pilgrim on route to Santiago
Pilgrims, poor or rich, returning from St. James or on their way there, must be received with charity and consideration by everyone. For whoever eagerly receives them and gives them lodging will have as their guest not only St. James but Our Savior. For the Gospel has said,
Whosoever receives you receives me
.
Many have incurred the wrath of God because they did not wish to help a pilgrim of St. James and the poor.
At Villeneuve, a poor pilgrim on the road toward St. James of Compostela spoke to a woman who was tending bread in hot coals. He begged for the love of God and the blessed James, but she replied that she had no bread.
At that, the pilgrim exclaimed, "May it please heaven to change your bread into stone."
When the pilgrim had departed and gone a good distance, the mean woman went to take her bread from the coals and found in its place a round stone.
Struck with contrition she immediately went in search of the pilgrim, but could not find him.
This is why everyone ought to know that, rich or poor, pilgrims of St. James deserve hospitality and a sincere welcome.
(From J. Viellard, Le Guide du pelerine de Saint-Jacques de Compostelle,
Macon, 1950, 122-123.)
Posted February 1, 2014