Stories & Legends

Miracles in Spain - 1
The Chasuble of St. Ildephonsus

The miracle tales of the 12th century priest Gonzalo de Berceo were written in Castilian, the language of the common man, and intended to be read aloud. This is the first of many miracles he records. His descriptions were extremely popular in medieval Spain.


I will begin the marvelous miracles of Our Lady in the great city of Toledo, a famous place. Really I do not know where to begin because there are more miracles than the sand on the sea shore.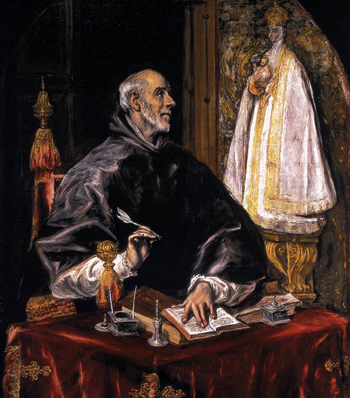 St. Ildephonsus (606-670) wrote On Mary's Perpetual Virginity, a landmark in devotion to Our Lady
In fair Toledo, that royal city which lies above the mighty River Tagus, there was an Archbishop called Ildephonsus (606-667), a loyal cleric who was a true friend of the Glorious Lady. He was a holy man who possessed great wisdom, revealed by his deeds.
Never did a man have more love for a Lady. He sought to serve her with all his might, and did so sensibly and most prudently. Besides his many other great services, he wrote a book of beautiful sayings about her and her virginity in response to three infidels (Jovianus, Helvidius and 'a Jew').
On the Nativity Day the holy Archbishop was preparing to begin the Mass. He was seated on his precious throne when the Glorious Lady brought him a most honorable gift. The Mother of the King of Majesty appeared to him with a book of great brightness in her hand. It was the book he had written about her virginity.
Ildephonsus was very pleased! Then she extended to him another favor, one never before heard: She gave him a chasuble sewn without a needle. It was an angelic work, not woven by human kind.
She spoke but few words to him, a good and perfect speech. "Friend," she said, "know that I am pleased with you. You have sought for me great honor. You wrote a good book about me and have praised me well. For your Mass on this feast day, I bring you a gift of great value: a chasuble, a truly precious one, which you may wear as you sing today on this holy day.
"The throne upon which you now are seated is reserved for your body alone; the vesting of this chasuble is granted to you, anyone else who wears it will not be well regarded."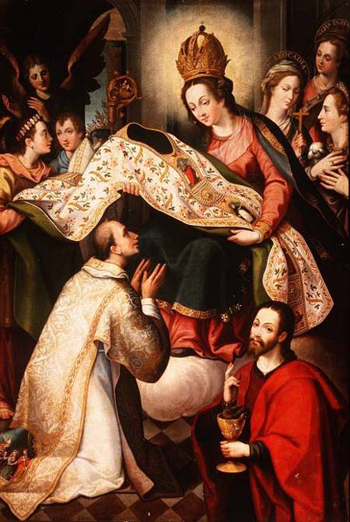 Our Lady appeared to the Saint and vested him in a chausable made by the Angels
Now then, when Our Lord Jesus Christ so willed it, St. Ildephonsus died.
A foolish canon was elevated to Archbishop, a man extremely proud and light of brain named Siagrio, who wanted to be considered equal to the holy Saint. He was wrong and the people of Toledo did not consider him well.
This Siagrio seated himself upon the throne of his predecessor and demanded the chasuble be given to him to wear. Then he said foolish things that angered the Mother of God: "Ildephonsus was never of greater dignity than I. Truly I am consecrated the same as he was, and we are all equal in our humanity."
He ordered his ministers to bring the chasuble so that he might start the Mass and lead the confessional prayer. But he was not permitted to do so, nor did he have the power, because that which God does not will to be can never be.
Although the holy vestment was ample in size, on Siagrio it was exceedingly tight. It caught his throat like a hard chain, and he was suffocated right then because of his great folly.
The Glorious Virgin, Star of the Sea, knows how to reward her friends well. She knows how to reward the good for their goodness and how to punish those who serve her badly.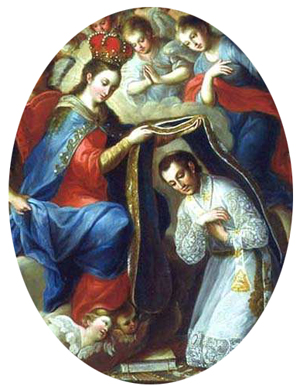 Adapted from Gonzalo de Verceo, Miracles of Our Lady,
trans. by T. Mount and A. Cash, , Un of Lexington Press, 1997, pp 28-31

Posted May 25, 2019