Stories & Legends
St. Theobald & the Poor Soul

Thus we read that certain of St. Theobald's fishermen, while fishing one autumn day, hauled up a large piece of ice which pleased them more than the fish, because their Bishop Theobald was afflicted with an ailment of the feet. Hence they put the ice under his feet, and thus procured him great relief.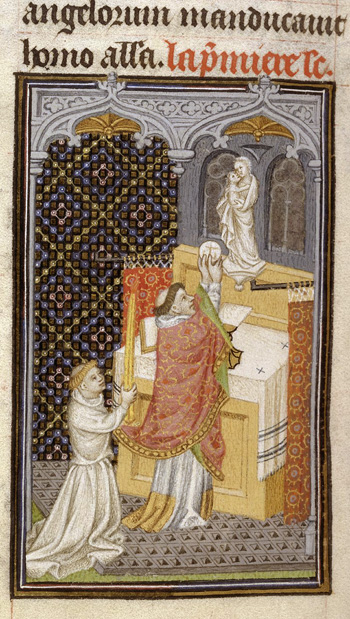 When the final Mass of the 30 ended, the poor soul was freed
But one time while he was thus cooling his gouty toes, he heard the voice from out of the ice. He commanded of him to tell who or what it was. The answer came: "I am a soul imprisoned in the ice and afflicted for my sins. I will be freed from here, if you would but say 30 Masses for me on 30 successive days without interruption."
When Theobald had said half the Masses, and was about to say the next, it came about, by the Devil's instigation, that all the men of the city fell to warring with each other. Thus, the Bishop, being called to quell the sedition, laid aside the sacred vestments and omitted the Mass on that day.
He began anew, therefore, and had already completed two-thirds of the Masses when a great army laid siege to the city, and he was forced to forego the Mass again.
Beginning a third time, he had said all but one Mass, and was preparing to say the last, when the whole town, and the Bishop's house itself, seemed to burst into flames. But when his servants told him to put off the Mass, he said: "Even if the whole city were to burn, I would not delay the Mass!"
To be short, he was good to his word. And when the Mass had been celebrated, the ice was straightway dissolved, and the fire, which all thought they had seen, vanished like a wraith, and did no whit of harm.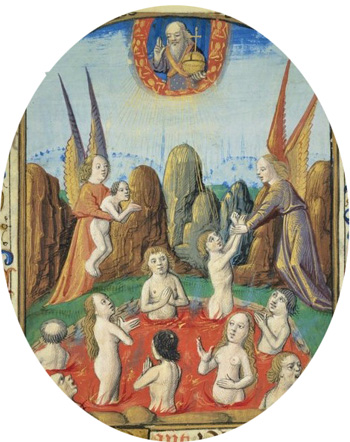 Adapted from The Golden Legend by Jacobus de Voragine,
Princeton Un. Press, 1993, pp. 668-669
Posted April 25, 2020