Stories & Legends
Emperor Julian Killed by St. Mercurius

Recently a friend gifted me with a nice book in French titled
The Military and Religious Life in the Middle Age and the Epoch of the Renaissance
by Paul Lacroix, who was the official Conservator of the National Library of the Arsenal in Paris. The year of the publication is 1873 and the book is leather bound with rich gold engraving – a true rarity.
In my spare times I am going through it, reading this or that passage. I read one incident so interesting and so difficult to find in normal books of piety that I want to share it with my TIA readers.
The author describes the horrible persecution that Julian the Apostate, Emperor of the Roman Empire (331-363), directed against the Church soon after she left the Catacombs. In this text there is a surprising interposition of Our Lord who sent St. Mercurius on a mission from Heaven to Earth to strike Julian with a deadly thrust of his spear, which he did. I pass to transcribe the piquant episode Lacroix reports: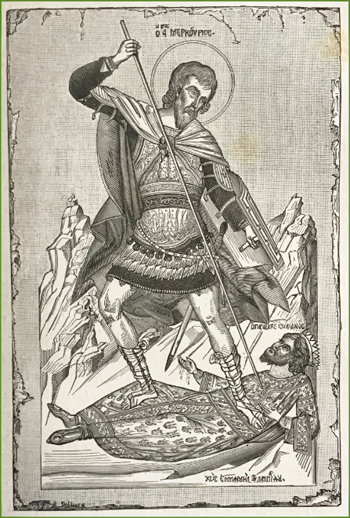 St. Mercurius comes from Heaven to kill the Emperor Julian the Apostate
"But the most radical attempt against Christianity was, without a doubt, a conspiracy of dissident sects under the patronage of Emperor Julian, called the Apostate because he abjured the Christian Religion with the intention of reestablishing Paganism.
"Nothing could be more skillfully arranged than Julian's plan to achieve this result. Combining all the forces against the Church, he favored the heretics and the philosophical schools, which, after having displayed some brilliance with Plotinus and Porphyrius, fell into ridiculous aberrations of conjurations and demonology.
"But, with the protection of Julian, things changed abruptly, as Jules Simon ably affirms in his
History of the School of Alexandria
. This School, 'humiliated by the triumph of Christianity, reduced to silence and obscurity, without fame, credibility or influence, suddenly assumed a new position with the ascension of Julian and made an effort to take advantage of the sovereign power, with which one of its adepts was clothed, to destroy Christianity.'
"The fight was terrible and the threatened Church did not see any human way to defend herself. The faithful begged for Heaven's help, and the premature death of Julian was attributed to divine intervention.
"The historians of the Church report that St. Basil the Great, while praying God to protect His Church against the persecutor, fell into ecstasy. He saw Christ in Heaven telling St. Mercurius (Martyr of Caesarea, in Cappadocia): 'Go to strike the enemy of those who believe in Me!' The holy Martyr left immediately and, returning after some time, he told his Divine Master: 'Thy orders are accomplished, Julian is exterminated.'
"St. Basil had this vision on the very night that Julian perished. According to the reports of many writers, the Emperor, understanding whence came the blow that caused his death, took the blood that poured from his wound and threw it upward toward Heaven, exclaiming: 'Thou has won, O Galilean!'
These reports, popularized by Byzantine artists, testify to the importance Christians attributed to the fight that the Emperor Julian engaged against them."
(Paul Lacroix, Vie Militaire et Religieuse au Moyen Age et a l'Époque de la Renaissance,
Paris: Librairie de Firmin Didot, 1873, pp. 439-440)

Posted June 6, 2020