Forgotten Truths
The Cardinal of Lima Condemns
Modern Dances as Immoral

In April of 1951, Msgr. Juan Gualberto Guevara, Cardinal Archbishop of Lima (1882-1954), condemned the
mambo
, a popular Cuban dance that had recently been introduced in Peru. This dance was presented in Lima for the first time during Holy Week, which, His Eminence emphasized, was an extra offense to Our Lord.
The Priests of the Archdiocese of Lima were prohibited from giving absolution to penitents who did not express the firm resolve to never dance the
mambo
again. Catholics were also prohibited from attending a social event in Lima paying homage to the "King of Mambo" Perez Prado.
It is highly edifying to see the strong reaction of a Cardinal to this dance and the many bad customs that were already spreading at that time. Unfortunately, today all this immorality is being accepted by priests, Prelates and, yes, even Popes (
Francis proclaims
himself a fan of the condemned tango). It gives an indication of how much Catholic Morals have fallen and changed since Vatican II.
Here we publish an excerpt of Card. Guevara's Pastoral Letter, published on March 13, 1951, in Holy Week.
Cardinal Juan Gualberto Guevara, Archbishop of Lima
In our recently published Edict on the Holy Year in the Archdiocese of Lima, we said, 'If we have always condemned dances taking place during Lent, we speak out with extra emphasis now for a double motive:
first,
because it is Lenten time and Holy Week and,
second,
because the Catholic knows that he should always flee from scandalous and sensual dances such as those that are generally being introduced by the style of these times.'
By making this admonition, we thought it would serve to moderate the disordered affection for parties, diversions and dances that we are unfortunately witnessing.
Immoral dances
We never imagined that in full Lent a veritable flood of scandalous dances would fall down upon us in certain sectors, as has happened in these last days.
As if the large number of imported dancers were not enough, there is the sad reminder of hiring an indecorous dance company that is provoking a kind of furor in certain social circles and that is performing in various public places, without any kind of control. …
In vain was the authoritative voice of the Holy Father raised to say that this would be the year of the return to Christ, penance and pardon. It is useless to remind people that we are moving towards new and dreadful conflicts that threaten us with unthinkable abysses of ruin and destruction, that we cannot deceive the justice of God, and that this justice makes itself inexorably felt when disorders and scandals make the cup of divine anger overflow.
There is no stopping in this wave of shamelessness that increases daily and that aims to overwhelm every sphere of human activity.
The cowardice of the good
In this accumulation of evils that we are contemplating, what most saddens us is that until now a voice has not been raised that is sufficiently powerful and strong enough to condemn such disorders. Nowhere is found a movement of reaction of an official or individual character that puts an end to such disorders. ….
It seems that the good men have fallen asleep and that the society of sensible and honest persons who still exist prefers to remain silent rather than take up a valorous and Catholic action that shows no solidarity with the vice.
Condemnations
Therefore, amid this moral prostration that frightens and saddens us, conscious of our sacred pastoral duties, in the name of Catholic morality and with all the love that we profess for the flock confided to our care, we condemn with our whole soul the disorders that we enumerate here:
The dances … that stimulate the lower instincts and excite the worst passions;
The radio programs that spread nauseous music and lyrics;
The scandalously graphic cinematic exhibitions;
The pornographic publications of all types;
The games made for profit or pleasure that consume long hours, which should be employed in profitable work or in the fulfillment of domestic duties;
The scandalous and provocative nudity at beaches and swimming pools.
We also denounce all the dance tournaments taking place in these days and we call for true Catholics to abstain from taking part in such diversions.
Appeal
We invite the authorities charged with guarding public morality in cinema, radio and events to fulfill their duty, repressing the immorality not only in hidden places but also viewed today in a scandalous way in the streets and beaches. …
We appeal to real Catholics and not just of name to throw off the lethargy that seems to dominate them at this moment, and to support the crusade that must be made to reestablish morals and revitalize Christian life.
The hour has come for you to wake
The hour has come for you to wake from your slumber
(Rom 13:11), St. Paul tells us. For this reason, we invite the faithful children of the Church to organize acts of individual and group reparation. Especially we direct ourselves to religious communities, Catholic Action and pious associations.
We also warn confessors that that they should deny absolution to persons to assist at or take part in the dance called the mambo.
Let each one do as he sees fit; to comport himself as a good soldier of Christ in this campaign for the social good, and let all prepare themselves to celebrate with recollection and devotion the Holy Week that comes before the great feast of the Easter of the Resurrection, that is, the great triumph of Christ, the true and only Savior of mankind.
Pastoral Letter of His Eminence Cardinal Juan Gualberto Guevara,
Archbishop of Lima, Peru, published on March 13, 1951
transcribed in Catolicismo, n. 6, June, 1951
Posted April 13, 2019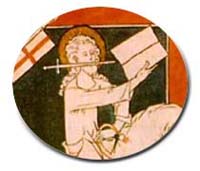 ______________________
| | | |
| --- | --- | --- |
| Volume I | Volume II | Volume III |
| Volume IV | Volume V | Volume VI |
| Volume VII | Volume VIII | Volume IX |
| Volume X | Volume XI | Special Edition |