Manners, Customs, Clothing
The Problematic Hospital Gown
The TIA desk recently received an interesting letter on a rarely addressed modesty topic, the problematic hospital gown, which was directed by the Editor to my desk. Since I had already done some research on the subject and certainly had opinions on it, I agreed to respond.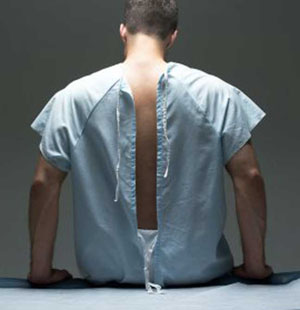 The scanty hospital gown that invariably opens in the back
The letter read: "You have many articles covering modesty, but there is one aspect of modesty that I never see covered: hospital attire. I once had to go in for testing, and they put me in a single gown that did not nearly cover me, then made me walk down the hallway to the room for the testing with no way to cover myself, in front of many people of both sexes who were waiting there. They only mocked my humiliation. This was in the early 1980's at a hospital in Cincinnati. I felt as if I would die of mortification.
"And whenever one is in a hospital for testing, surgery, etc, the best one can accomplish is to get ask for two gowns, but they are still immodestly short and revealing. An article and advice on this would be much appreciated. Thank you and God bless you."
Those who have had a hospital stay know about the indignity the letter-writer is talking about: the short, thin-material gown with a closed front and an open-air back that constitutes the standard hospital gown. There are ties in the back, but even if you can manage to get them fastened properly, the design is so scanty that usually something you don't want showing in the back ends up showing.
If this is immodest, humiliating and unacceptable, you do not have to just sit back, moan and bear the situation with a defeatist spirit, which is not a noble state of spirit, by the way. The noble position is never fatalist; it confronts the problem with energy - even and perhaps especially when it looks at a difficult fight, and it doesn't relent until a solution is found.
Provide your own
This is the attitude to take in face of the hospital gown. There is no hospital rule stating that patients must wear the ones provided. You have a choice - to purchase or make one of your own and bring it with you for a scheduled operation.
Many younger women today are choosing to purchase gowns before they go to the hospital to have babies. There is no reason why an older woman or single lady should not also have such a gown on hand in a special drawer or "hospital bag" in case of some medical emergency.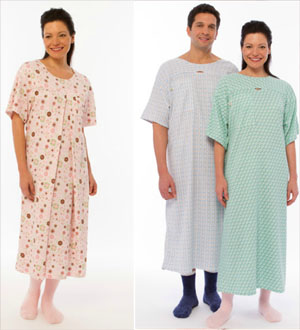 Different kinds of modest hospital gowns are readily available today
There are quite a few brands and styles that can be found at new online companies like
Gownies
,
Hot Mama Gowns
,
DearJohnnies
, and
Trendy Tummy Maternity
(geared strictly for women). Others, like
Patient Style
,
Gorgeous Hospital Gowns
and
Health Gear
, design and sell comfortable , practical and modest gowns for both men and women.
"Oh, but that kind of pre-planning is so much trouble," someone may object.
Excuse me, my dear, we Americans are famous for our "insurance policy" mentality: We cover our houses for every emergency – fire, theft, flooding, hail, appliances, you name it, there is a policy for it. We pre-plan our vacations, our retirements, every aspect of our lives. I recently came across a "Life Plan Manifesto" that steers a person through designing every detail in one's life.
Surely the trouble to pre-purchase a modest hospital gown for a potential or planned hospital stay is small enough "insurance" for a lady or man who wants to be faithful to Catholic Morals, have peace of mind and the assurance of dignity during a hospital stay.
Another negative I've heard about bringing your own gown is the cost. One young woman complained that it was just "too much money to shell out if you're only going to wear the gown once."
This complaint belies any real concern about modesty. If you supposedly desire more modesty during your hospital stay, then the cost of purchasing or making a gown is a secondary consideration. It is hard to believe that a relative or friend would not come to one's assistance with the necessary funds – usually under $50 –in a case of a real want of funds. The gown would also make an excellent shower present for a mother-to-be or a birthday gift for that parent, aunt, or grandparent who seems to have everything.
Make your voice heard
Researching this topic, it was embarrassing for me to learn that hospitals are actually beginning to provide less revealing gowns because Muslim women are loudly objecting to the standard skimpy ones.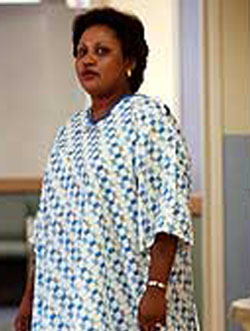 The "Johnny" alternative can be requested at more & more hospitals today
I said it is embarrassing because I am ashamed that it is Muslims – and not Catholics – who are protesting so loudly that their voices are being heard. Why do Muslims call it "an unthinkable indignity" to wear the scanty hospital gowns, while Catholics calmly accept this opprobrium as normal? Certainly the almost total silence about Catholic morality of priests from the pulpit has to do with all this growing tide of tolerance among Catholics.
An example of how activism produces results: When
officials at Maine Medical Center
discovered many Muslim women were so ashamed they were canceling doctor visits, the hospital took action, redesigning the standard gown to provide extra coverage for patients who want it. The new hospital gown is called a Johnny and anyone who wants to be fully clothed can request it.
More hospitals are following suit. The Cleveland Clinic, for example, introduced a prototype gown that came from the drawing board of fashion magnate Diane von Furstenberg. It has a wraparound closure, a longer length, and has a colorful graphic print that incorporates the Cleveland Clinic Logo. The new model came as result of multiple requests from patients who complained they felt embarrassed or undignified wearing the scanty old gown.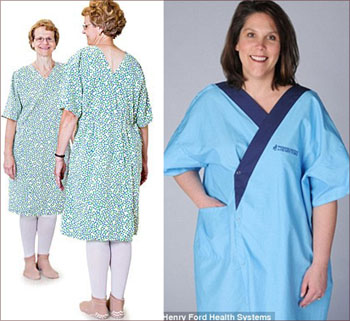 The Diane von Furstenberg gown, at left, and wraparound style, right, used in some cancer centers
Other health institutions are also addressing the issue of modesty. At Seattle's Swedish Cancer Institute, female patients complained about the old gown that had a gaping hole in the back that "didn't give them a sense of dignity." Patients often requested two gowns to cover up, which defeated the purpose of saving cost on the skimpy design.
The directors responded
with a new wraparound style robe that fully covers front and back. The positive feedback of patients has caused the design team to license the pattern to market nationwide.
What can be learned from these examples? For me, it is simple. For too long customers – in this case, patients – have been silent in face of disagreeable situations, especially ones that involve morals. Perhaps Catholics are fearful of appearing "prudish," perhaps they have simply wanted to "fit in" to the predominantly Protestant culture in the U.S.
But we should not meekly "baaa" yes to immodest clothing that reduces one's dignity and sense of being a child of God first and foremost. We should make our voices heard at the hospitals and clinics we visit and if our voices aren't heard, then take action and purchase or make our own hospital gowns.
Posted October 13, 2014