Manners, Customs, Clothing

The History of the Tie - V
World Leaders Moving to Abolish the Necktie
Previous articles of this series discussed the history, symbolism, objections and philosophical thoughts on the use of the necktie. Today, I will focus on how world leaders are moving to abolish the tie from the public sphere in an effort to promote egalitarianism and liberalism worldwide.
We all have witnessed the deleterious effects of the Cultural Revolution from the '60s to the present day. These effects are particularly salient in the United States, often seen as the global benchmark for casual dress.
In the last century we have seen the Cultural Revolution gradually take over in society to the point of an almost-complete degradation in dress and customs. However, in the political sphere a certain respect for ceremony and good dress remained largely untouched. One proof of this is the stability of suits and ties as standard dress for world leaders, as we can see in the pictures below.

World leaders wearing ties since the 1800s. From left to right: King Alfonso XIII of Spain in 1886, King Edward VII of the United Kingdom in 1903, Mustafa Ataturk of Turkey in 1934, John Kennedy in the 1950s and President Janos Ader of Hungary in 2017
Recently, however, international leaders have begun to push for a tie-less wardrobe.
Not wearing a necktie was once punishable by law
Though the current version of the necktie has its shortcomings (as I mentioned
here)
, national leaders and men of upper society always understood its importance as a symbol of respect and ceremony. An 1882 news clipping I found recently in
The New York Times
reads: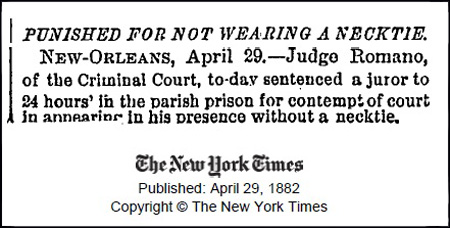 Contempt of court is "a willful disobedience to or disrespect for the authority of a court or legislative body." Not wearing a tie at a public hearing was seen then as a disrespect for authority. We can see how much less egalitarian the world was then, when men and women were held to standards that respected a more hierarchical structure, a good remnant of Catholic Civilization. We also see that this sound structure called for men to be less lazy and casual in their habits; instead of comfort, they followed modes that required more effort and sacrifice; these good customs influenced their way of being and thinking.
Examples of tie-less world leaders
As if the world leaders were all being directed by the baton of the same maestro, suddenly all are abandoning their neckties and opening their collars. One can certainly wonder if some order were given from the Secret Forces in order to break the last bastion of ceremonial dress to make the egalitarian revolution in clothing complete.
This global move toward tie-lessness appears quite clearly in the photo below showing the participants of the 2013 G8 Summit, a political forum of international leaders held in Northern Ireland.

2013 G8 leaders, left to right: Herman Van Rompuy (EU), Enrico Letta (Italy), Stephen Harper (Canada), François Hollande (France), Barack Obama (US), David Cameron (UK), Vladimir Putin (Russia), Angela Merkel (Germany), José Manuel Barroso (EU) and Shinzō Abe (Japan)
Here we can see some of the most powerful men in the world, gathering at an international summit to represent their respective countries, yet none of them are wearing neckties, a traditional symbol of hierarchy and ceremony. They opted instead for the new casual look.
One might think that this attire was a simple personal choice made by the participants, but the fact of such a universal abandonment of formal dress seems to point in an opposite direction. Some have even dared to openly purport that it was a "forced informality." According to the BBC, "UK Chancellor George Osborne told the BBC
he had been told
to 'turn up in smart-casual wear.' 'I have followed to the letter: I got out my jacket and my blue shirt,' he said [emphasis added]." (Source
here)
This forced sloppiness was not well-received, sparking comments on the vulgar dress not only from the BBC, but also Public Radio International and even Vanity Fair.
It seems that a sort of "test" was made at the G8 summit with this order for informality to measure public reaction. Since the general public response was unfavorable, those running the "attire show" received the message: below we can see world leaders resuming necktie use at the G20 Summit of July 2017 in Hamburg, Germany,
pictured below
.

International leaders sporting ties at the G20 Summit, held in Hamburg, Germany, July 2017
Tsipras presented as a model for the modern politician
Let us turn now to the case of Alexis Tsipras, the Greek Prime Minister who never wears neckties.
In 2015, Alexis Tsipras assumed the role of Prime Minister of Greece at the time of the nation's catastrophic debt crisis. That same year
Time Magazine
included him in its list of the "100 Most Influential People in the World." What makes him so important, one might ask?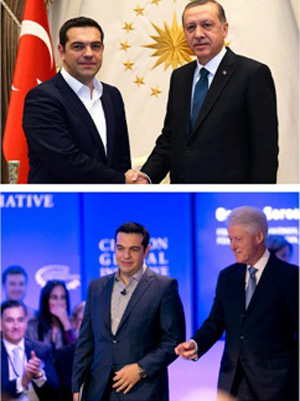 Alexis Tsipras
Pablo Iglesias, Secretary General of Spain's leftist "Podemos" party, said that Tsipras is not only a dedicated "family man," but also "represents a Europeanism shared by those of us who understand that democracy on our [European] continent has to be linked to sovereignty and social justice." (Source
here
)
Tsipras was an active member of the Greek Communist Party and today is-leader of Greece's Socialist Party Syriza (Greek for "radically"). This supposed "family man" is not actually married but lives with his "registered partner," a woman he met in the Communist Youth movement of Greece. He is a self-described atheist, one of the only two atheist members of the European Union, the other being Czech President Miloš Zeman.
If there is a word to describe Tsipras, it is
revolutionary
. And, not surprisingly, this word can also be used to describe his outfit of choice: a suit with an open collar and no tie.
Since his time in office, Tsipras has refused to wear a tie. Other leaders noticed this and some have actually tried to persuade the Greek Prime Minister to don a tie. When Italian Prime Minister Matteo Renzi presented Tsipras with a necktie during a press conference in Rome, Tsipras responded: "I promise I will wear it when we find a viable solution for Europe," apparently referring to the day when Greece's massive debt is forgiven.
So, instead of making a small personal sacrifice for Greece – setting aside his comfort and revolutionary pride – Tsipras chose to revolt against the necktie, a longtime symbol of hierarchy and sacrality.
Indeed, many leaders are adopting this same revolutionary fad.
Behind the tie-lessness…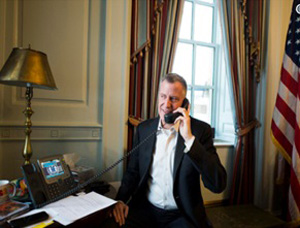 A tieless mayor of New York City, Bill de Blasio
What does all of this mean?
In abandoning the necktie, international leaders are taking the world into a new step of egalitarianism and liberalism. These two systems of thought do not inspire others to love God, love their neighbor or practice virtue. They instead inspire contempt for authority (pride) and placement of one's comfort above all things (sensuality).
According to Dr. Plinio Corrêa de Oliveira, these two human passions – pride and sensuality – are the propelling forces of the Revolution. They ultimately lead to the destruction of the soul and the destruction of the last remains of Christendom in society.
Continued

Posted February 12, 2018