Manners, Customs, Clothing
Dolan Socializes, Vatican Choir Sings
at Blasphemous Met Gala
The Met Gala red carpet opening was packed Monday night, May 7, 2018, with over 130 celebrities bedecked in their "Heavenly Bodies" costumes. Celebrities here means popular stars, rappers, rockers and the fashion world glitterati walking the red carpet in outfits that are supposedly inspired by the "Catholic imagination."
Actually, they did their utmost to mock the Catholic Religion by impersonating Popes, Cardinals, priests, nuns and even Our Lord and Our Lady, wearing the most immodest and extravagant dresses possible. What the public saw was far more the Satanic imagination than the Catholic one.
The actual exhibition – on display until October 8 – includes 42 objects lent by the Vatican, such as the tiara of Pius IX and the chasuble of Pius XI. But the tiaras encrusted with precious jewels and papal mantel embroidered with gold metal thread, took second stage to the fashion parade at the Met Gala. This fashion show was very offensive to the Holy Church and Catholic morals. I would say it would be difficult to find a gaudier and more indecent display of cleavage, thighs and skin.
As a matter of fact, the 42 Vatican papal artifacts received little press; what caused the splash were the 130-plus celebrities making a mockery of the Catholic hierarchy and symbols.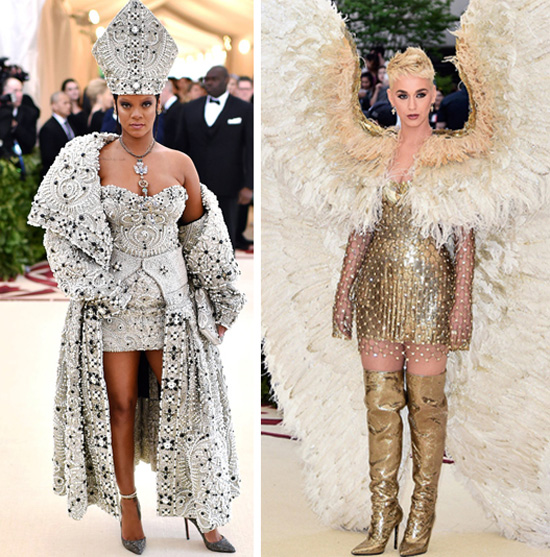 'Pappess' Rihanna and 'Angel' Kelly at the Met Gala
Setting the tone, Barbadian singer Rihanna arrived early in a papal miter coordinating with her sequined mini dress with a train and matching "cape" to preside as pontiff and bless the event. This made her "honorary host" for the night, a post she shared with Card. Timothy Dolan who joked that he had lent her his miter. He added that he told his bishops, "Hey, you guys should not complain because she has volunteered to do some confirmations."
Rihanna was not to be outdone, however, by Katy Perry, recently returned from a Vatican conference where she was a featured speaker promoting transcendental meditation for children. She posed provocatively for the cameras as a winged angel in a metallic shoulder-less mini dress. This is the singer who rose to fame with her lesbian themed single "I Kissed a Girl" and proudly announces herself as a "spotlight" for LGBT rights.
According to the Metropolitan Museum of Art, the exhibition is meant to "present a dialogue between fashion and medieval art ... in order to examine the continued commitment of fashion to the devotional practices of Catholicism." The only commitment of fashion seen at the opening night Gala, however, was to destroying and ridiculing the devotional symbols and morals of Catholicism

Left to right, a pregnant Cardi B in a headdress and a high-slit gown with Catholic symbols; actress-singer Zendaya as a provocative Joan of Arc; Cynthia Erivo in velvet bishop's purple; Cara Delevingne in a sheer 'priest gown' with criss-cross panels
Church approval
In the past, the Met would not have dared host a mocking event like this; today, it has the full approval of Church authorities. In fact, the Vatican sent its Sistine Chapel choir to New York to perform at the gala. It performed at the cocktail party; later at the after party, Madonna made a counter-performance, singing "Like a Prayer," which of course was not anything like a Catholic prayer.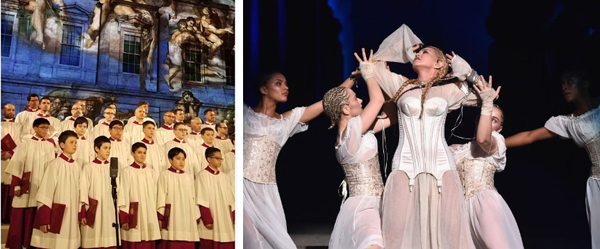 The Sistine Chapel Boys Choir and Madonna -
both performing guests of honor at the Met Gala
There were plenty of real clergy – alongside models dressed as mock priests – who didn't seem the least bit offended by the blatant indecency of the gala. Fr. James Martin, an advocate of homosexuals and a favorite of Pope Francis, was a special guest to the event. He tweeted how great it was when people mistook him for a celebrity and called him "a sexy priest."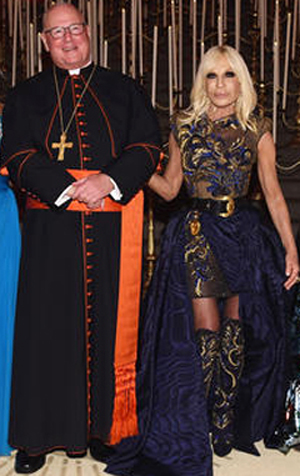 Card. Dolan posing with Donatella Versace in a mini-skirt
This extravaganza was promoted by Card. Timothy Dolan, Archbishop of New York, who greeted the crowd at the official press review, saying, "You may be asking, what is the Church doing here?"
He hastened to answer the question: "In the Catholic imagination, the truth, goodness and beauty of God is reflected all over… even in fashion."
Dolan, who wore a black cassock, cardinal red sash and ever-present grin also thanked the Vatican for its support and "historic cooperation. I'm honored to be here."
The Cardinal posed triumphantly with Donatella Versace, one of the chief funders of the show, who wore a mini skirt and thigh high boots. `
Later he commented in an interview: "I may have seen some things in poor taste, but I didn't detect anybody out to offend the Church."
The New York Cardinal has lost the last smidgeon of his Catholic sense as well as good taste to say he did not find any of these outfits crass and offensive to the Church.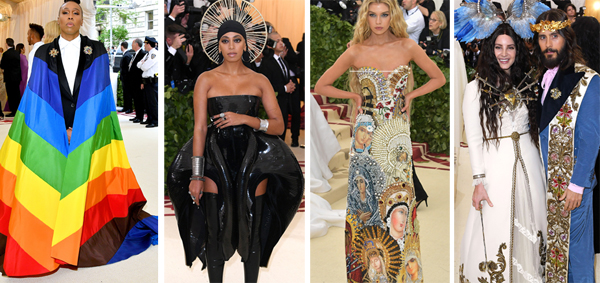 Left to right, Lena Waithe dressed in a voluminous rainbow striped gay pride flag mocking the Church's official stand on homosexuality; Solange Knowles pretending to be a saint/nun in a revealing high-shine dress; Stella Maxwell in a strapless skin-tight sheathe with images of the Virgin Mary; Dana del Rey and Jared Leto playing the Virgin and Christ, mocking the Seven Sorrows of Our Lady and the Crown of Thorns.
But none of this was offensive to Cardinal Dolan. Did he only see the truth, goodness and beauty of God in these outrageous displays of immodesty and bawdiness?
Heavenly Bodies
opens to the public later this week and runs through to October 8. The Cardinal rejoices the Met display will give a nearly six-month "homage" to Catholicism. But it is not the display of art that takes first place or be remembered in the public imagination; rather the media pays homage to this blasphemous abuse of Catholic symbols that would make a choir boy of days past blush. This kind of publicity the Catholic Church does not seek, but makes reparation for.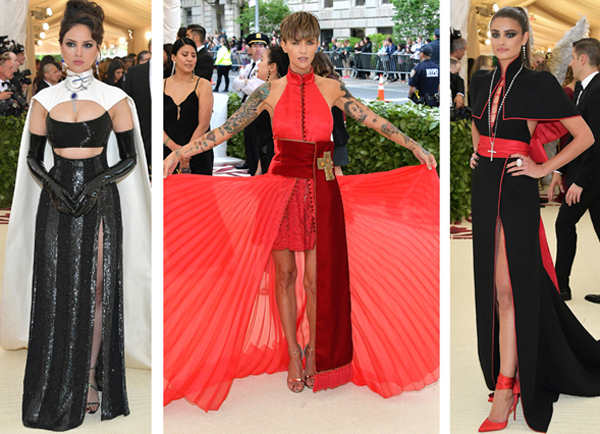 Nothing 'offensive' here according to Card. Dolan: Personalities at the Gala pretending to be Catholic prelates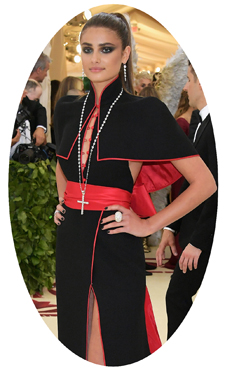 Photos from People Style online

Posted May 9, 2018