Ambiences and Tendencies
Highly Aristocratic Institutions
If time permitted, the author of this series on
Ambiences, Customs, Civilizations
would have a special pleasure in studying the concept of "democracy" in the documents of Pius XII. The word, frequently infested by all the devils of the Revolution, takes on a new, original and, so to speak, "exorcised" sense in the Pontiff's documents and merit deeper analysis. Anyone who would devote himself to such a study would see how much this democracy diverges from how it is understood today in many of our political circles.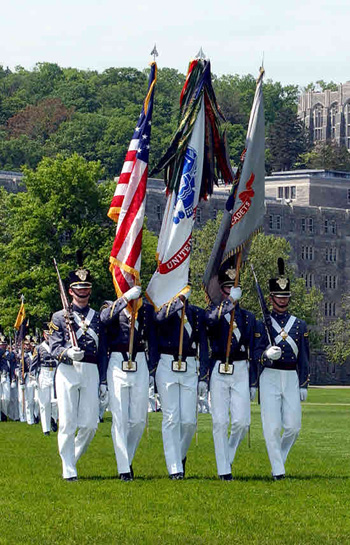 Thus, the statement of the august Pontiff in an allocution to the Roman nobility will cause much surprise to more than one person when he affirms that all peoples, including those in democracies, should have eminently aristocratic institutions:
"Hence the existence and influence, among all civilized peoples, of highly aristocratic institutions, aristocratic in the highest sense of the word, like certain academies of widespread and well-deserved fame. The nobility also belongs to this number: Without pretending any privilege or monopoly, it is – or ought to be – one of these institutions: traditional institutions founded on the continuity of an ancient education." (Allocution of January 16, 1946)
It is a great truth that certain nations, although considered as paradigms of democracy, consciously or subconsciously recognize.
The uniform, bearing and march of these cadets in the picture above are clearly aristocratic. Seriousness, preeminence, tradition, a sense of authority, the warrior spirit, which are elements intrinsic to the notion of nobility, are clearly and pleasantly mirrored in them. The fortunate snapshot was caught at a moment when a light wind itself seemed to collaborate in the noble note of the ensemble, moving in commanding ripples the banners that the cadets carried with such brio.
*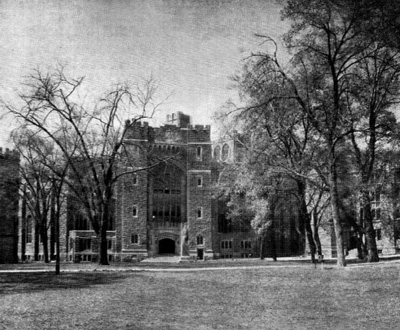 The headquarters of this military academy expresses the same spirit. The harmonious lines of the façade have the charm and distinction of old English buildings. The stone forming it is a severe, strong material. The central body, flanked by two large towers with battlements, looks like a fortress. The immense middle window gives it, however, an indefinable "air" of a church, that is, a calm and welcoming sweetness, which hangs like a great promise over the small and gracious entrance door.
To its left, stands another building, also of stone; in it a turret reinforces the military note of the picture. To the right, a building of the same style seems to invite one to study in a comfortable and recollected environment. An old grove of trees is remindful of those of the European castles. A certain vague and discreet note of suave melancholy, restful and luminous – so typical of traditional environments – seems to be spread through the air.
A grand lawn places the whole in a respectable seclusion. Whoever wants to cross these thresholds must make a long walk, without having anything before him except for this décor, as if requiring from him attention and due honor...
*
Where is this school, these cadets, this ambience? Is it in the monarchical and traditional England? Many of our readers will have already answered no, recognizing the uniforms and building of West Point Academy in the United States.
*
There are signs that love for tradition, distinction and form is ever more accentuated in our Brazilian armed forces. An example of this is our
Academia das Agulhas Negras
(Military Academy of Black Needle Mountains)
It seems to us that civilians would do well to imitate in this point the effort of the military, to turn back the tidal wave of demagogic vulgarity and electoral tawdriness that today has invaded our political environments in a special way. So many candidates, to prove themselves democratic, deem it necessary to boast their lack of manners, demeanor and education.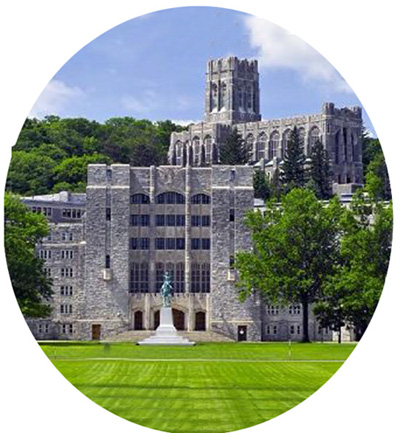 Catolicismo n. 67 - July 1956
Posted on May 17, 2018