Ambiences and Tendencies
Free-Love & Agnostic Rockstar
Praised by Vatican Newspaper
On January 21, 2019,
L'Osservatore Romano
– the Vatican's press organ and daily newspaper – featured
an article
praising the music of Van Morrison. The article raved on about his music, calling his mantra-like lyrics "poetry" and his music "meditative," reaching the "peak of expressiveness" and helping the listener to climb onto "a fleeting bridge to infinity."
Who is Van Morrison? For those who are not familiar, Van Morrison is a Northern Irish singer who rose to fame in the '60s with the band "Them." He broke away and released what is considered his signature song, "Brown-Eyed Girl."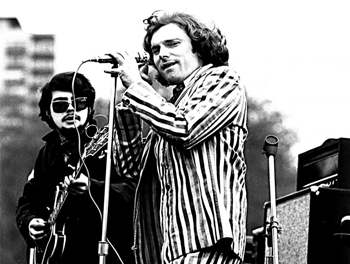 Van Morrison, known for his sensual free-love lyrics
Though Van Morrison has since moved to jazz and R&B, the pop-rock tune has become a defining one for the '60s, becoming so popular that American rock music journalist Paul Williams included the song in his book "Rock 'n Roll: The 100 Best Singles."
According to the
Belfast Telegraph,
"Brown-Eyed Girl" was considered too risqué even for its own time, and many radio stations refused to play it despite its popularity. What exactly makes this song so suggestive? In "Brown-Eyed Girl," Van Morrison describes his love not for his wife, but for his "brown-eyed girl" with whom he has fond memories of "making love in the green grass."
Besides the obvious Revolutionary
tendencies
in the song – the electric guitars, the typical '60s tambourine and handclapping, the thumping bass line, the raspy screaming vocals, the nonsensical syllables sung by backup singers – one finds an explicit presentation of the immoral "free love" culture of the '60s, with all the promiscuity and drugs that normally accompany it. Just by listening to the song, one gets the impression Van Morrison must have been on a drug trip while recording it, as he sounds completely out of a normal man's senses.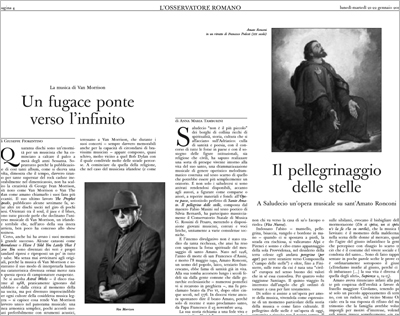 L'Osservatore Romano: 'He gives musical expression to religiousity'
L'Osservatore Romano
also gushes over his album "Astral Weeks," saying it is what made Van Morrison "truly unique." When doing some preliminary research, one finds that the Rock and Roll Hall of Fame called this 1968 album "trance-like folk jazz."
After listening to it, it is clear that this album is an acoustic progression from the Cultural Revolution of the '60s to the all-out free love and immorality of the '70s. Further, some critics have
noted
that this album, like the rest of Van Morrison's music, seems to "equate earthly love [sex] with heaven". As its title song "Astral Weeks" suggestively states, to "lay down" is to be "born again."
The occasion for
L'Osservatore Romano
's article was actually a celebration of Van Morrison's "The Prophet Speaks," his most recent soul/jazz/R&B album which – from beginning to end – can only really be described as '60s sex music (not much of a surprise here, considering all his past music). The Church's paper, however, sees this music as an expression of "religiosity":
"[
Van Morrison uses soul and blues
]
to address God in music, to express gratitude, to implore liberation from slavery, or simply to pray. This is the goal of Van Morrison: to give musical expression to his religiosity. A never quiet or dormant religiosity, but dynamic, sometimes troubled and in constant search. Because, as the text of 'Whenever God Shines His Light on Me' says, there are moments of 'deep confusion and great desperation,' but with the certainty that, when we search for Him, God always makes himself found
."
What is this "religiosity" that
L'Osservatore Romano
speaks of?
Van Morrison has been affiliated with the Anglican sect, eventually "yearned for Protestant and Catholic reconciliation," slipped in and out of Scientology and, not so long ago,
stated
that he "wouldn't touch [religion] with a 10-foot pole."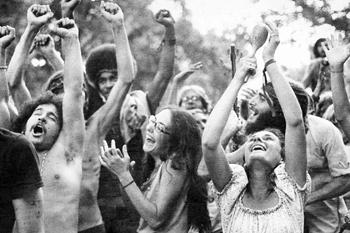 A music that freed the '60s youth from 'sexual inhibitions'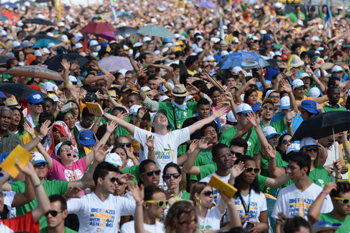 More inhibitions fall with Vatican approval at the WYD sleepovers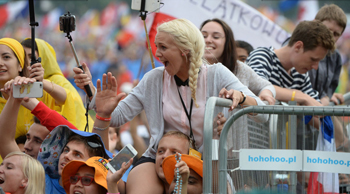 In 2017, he
attended a worship service
and played for the cult called
Agape International Spiritual Center
in Los Angeles. As though his "spiritual-not-religious" leanings could not be more obvious, in a 2015
interview
with the
Irish Times
he made it clear that he rejects religion, preferring spirituality: "Spirituality is one thing, religion... can mean anything from soup to nuts, you know? But, it generally means an organization, so, I don't really like to use the word, because that's what it really means. It really means this church or that church... but spirituality is different, because that's the individual."
Why is
L'Osservatore Romano
praising Van Morrison? Considering the implicit and explicit promotion of free love and "spirituality" in Van Morrison's music, it would appear that the Vatican organ is paying tribute to Van Morrison's philosophy that one can "find God" by seeking immorality and agnosticism.
Sadly, this is not the first time
L'Osservatore Romano
has paid tribute to revolutionary music. In 2016 the same Vatican newspaper
praised
the Beatles.
Again, all this comes as no surprise. When one considers the
Theology of the Body promoted
by Pope John Paul II, the massive outdoor sleepovers at
the World Youth Days
, the ecumenism with false religions
at Assisi
and
countless other events
, this tribute falls perfectly in line with Progressivism and its idea that to be made clean, one must swim in filth.
One is inevitably reminded of Francis'
counsel to Lithuanian Jesuits
last September:
"I advise you not to be afraid of descending into the hell of the people. Sometimes, this means entering the field of the devil. But suffering, be it human, social, that of the conscience…
we need to go down into hell, we need to be there. Touch the wounds. And touching people's wounds, you touch the wounds of Christ
." (emphasis added)
Van Morrison's music is a steady descent into a kind of promiscuous-agnostic hell, and – although not surprising considering the 50 years of Progressivism in the Church – for the Vatican's official press organ to promote it is to create serious scandal for the faithful.
May Our Lady of Good Success rid us soon of this Progressivism and help us to build the Reign of Mary with music that raises the soul to God instead of dragging it down to immorality and pantheism.
Posted on February 6, 2019