Ambiences and Tendencies
The Aristocrat and the Jetsetter
Lady Diana Cooper rests next to a statue in the park of the Castle of Chantilly, a historical mansion of the Princes of Condé. This photograph was taken in 1945, when Lord Cooper, her husband, served as the British ambassador in Paris.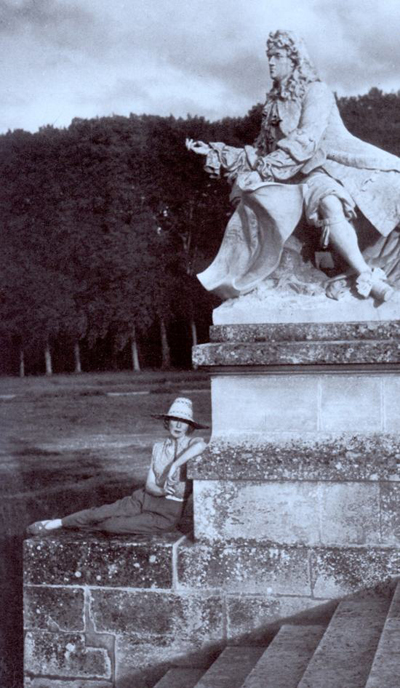 Lady Cooper, generally admired in the French capital for her intelligence and finesse, maintained in the halls of the British embassy an atmosphere of high taste and distinction, and became one of the central figures of Parisian social life at the time. She is, therefore, an aristocrat according to the taste and style of the 20
th
century, or what today is called a jetsetter.
The statue represents, on the contrary, an aristocrat according to the style and taste of the 18
th
century. The contrast is blatant and expresses more than a mere difference of aesthetic conceptions. It manifests two completely different ways of being, and represents well the conceptions and the lifestyle of the European social elites in two different epochs.
In the gentleman of the 18
th
century the expression of the physiognomy, the bearing, the gesture and the dress express the idea that the existence of social elites is not only proper, but desirable, and that the superiority of culture, manners and taste of its members should naturally be expressed with a maximum of precision, distinction and refinement.
On the contrary, the aristocrat of the 20
th
century camouflages itself. The dress of Lady Cooper is, in everything and through everything, that of a manual worker. Her position is elegant, expressing as if involuntarily a distinction that no longer dares to affirm itself fully in the light of day; a distinction which, so to speak, asks the vulgar passer-by forgiveness for existing: a pardon so humble that, in order for the distinction not to be too shocking, it veils itself under the clothes of a farm worker.
Is this not the meaning of the growing vulgarization of manners, standards of life and dress of jetsetters all over the West?
Catolicismo n. 2 - February of 1951
Posted on March 1, 2019