Consequences of Vatican II
Pope Refuses His Papal Blessing
to Sicilian Youth
On September 15, 2018, in Sicily Pope Bergoglio made another affront to the dignity of the papal office. It was an act so un-paternal and un-Catholic that, to be honest, my first thought was to wonder why he wasn't struck by lightning from Heaven on the spot he was standing. Sadly, such thoughts have not been infrequent these last years.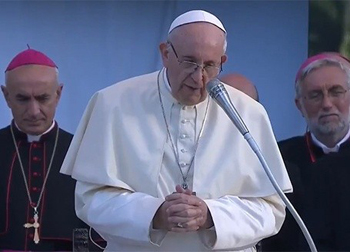 By refusing to give a blessing he implicitly denied he is the head of the Catholic Church
In the last event of his day-long visit, Francis met with a large group of young people at Polteama Square in Palermo and
addressed them briefly
. Then, at the end of his talk, he refused to give the traditional Papal Blessing because, he said, this would have offended the "many non-Catholic Christians, those of other religions and the agnostics" who might have been among the youth in that group.
Instead of a blessing, in his nasal droning, he said: "I know that among you there are young Catholics, Christians, other religious traditions and even some agnostics. For this I will bless everyone, and I will ask God to bless that seed of restlessness that is in your heart.
"Lord, Lord God, look at these young people. You know each of them, You know what they think, You know that they want to move on, to make a better world. Lord, make them seekers of good and of happiness; make them active in their journey and in their encounter with others; make them bold in serving; make them humble in seeking the roots and carrying them forward to bear fruit, to have identity, to have belonging. May the Lord, the Lord God, accompany all these young people on the journey and bless everyone. Amen."
It is shameful. A Pontiff who does not raise his hand, make the Sign of the Cross and bless the youth with the traditional Catholic blessing because of his concern not to offend Protestants and other brands of heretics and agnostics. What about a concern to offend Our Lord Jesus Christ, of whom he is the Vicar on earth? What about the certainty a Pope must have that there is only one true Faith?
What about the certainty of the dogma that whoever is not in the Catholic Church loses his soul? What about a concern to convert those Protestants and agnostics to this true Faith so they can save their souls? What about a concern for the terrible scandal he gave the Catholic youth in that group by not standing proudly for the Faith they profess?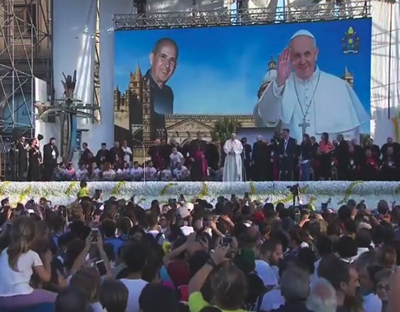 Giving public scandal to the Catholic youth
I am not writing here about giving the solemn apostolic blessing like the
Urbi et Orbi
given to the city of Rome and the world on solemn occasions. I am talking about a simple blessing like that which any pastor gives to the faithful of his flock: All Francis had to do was make the Sign of the Cross and invoke the Trinity –
"In nomine Patris, et Filii et Spiritus Sancti."
But he couldn't even do this.
The "blessing" he gave was preceded by an explanation that it would be one for "everyone," that is, a sort of pan-religious "blessing" one that could offend no one – except the truly faithful Catholic – so that God "might bless that seed of restlessness that is in your heart."
What did Francis have to say to the youth in his brief address? It was, in effect, like his non-blessing: Nothing doctrinal or moral in order not to offend anyone, everything humanitarian and philanthropic.
Like a Chapter Dad encouraging lads to good works in a Masonic youth group, he told them to "generate a new civilization, a fraternal civilization, a civilization of love" where "everything can change!" He spoke about a faith based on encounter, getting involved and spending oneself for others, dirtying ones hands for others: "You have to get your hands dirty! Do you understand? If you are not able to get your hands dirty, you will never be welcoming."
These Sicilian youth, in t-shirts and shorts, would be better advised to clean up rather than get dirty: To put on suits and ties (modest skirts and veils for the young women) to meet the Pope and assist at the papal Mass where Our Lord Jesus Christ, King of the Universe, is present to meet them. But the Pope never has a word to say about appropriate behavior and dress to assist at the Sacrifice of the Mass. So long as the youth are out in the world "dirtying their hands" he is pleased with them. He is the Pope who promotes dirtiness, not purity…
Fraternity not morals
Finally, we find the same kind of anti-apostolate of Morals that Francis preaches everywhere repeated here among this group of youth. Instead of advising them to practice the 6
th
Commandment and fight the homosexual culture which leads to moral and physical death, he in effect encouraged the liberal customs that prevail today. "Real men and women," he affirmed, are those who "report malfeasance and exploitation." Real men and women are those "who live free and liberating relationships, who love the weakest and are passionate about rights."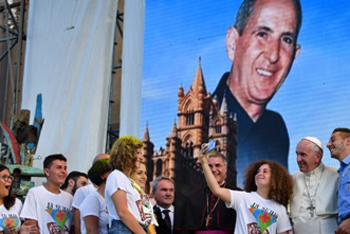 Francis encourages youth to have "free and liberating relationships," which translates as free love
Words like these preached to modern youth do nothing less than tell them to engage in every kind of relationship – licit or illicit, moral or immoral – and experience every kind of passion, legitimate zeal and illegitimate unrestraint. So long as they are helping those who are exploited and live on the fringes of society, like drug addicts, homosexuals, and every kind of "Me Too movement" adherent, they are approved by Pope Francis.
His words, woefully lacking in anything that speaks of Catholic Morals, could be the recommendations of a partisan of Liberation Theology or a communist agitator. It is what I fear will be the fare served at the coming Youth Synod October scheduled for October 3-28.
The poor children of today's modern Vatican II Church are led astray by a father who neither blesses nor feeds his children out of fear he might offend heretics and pagans. We are reaching the final consequences of Vatican II ecumenism, a Church that denies her apostolic mission in order to transform itself in a One-World Church that means nothing and stands for nothing.

Posted September 28 , 2018
| | | |
| --- | --- | --- |
| Volume I | Volume II | Volume III |
| Volume IV | Volume V | Volume VI |
| Volume VII | Volume VIII | Volume IX |
| Volume X | Volume XI | Special Edition |