Art & Architecture
Can Only Sacred Art Be Catholic?
Through the high windows adorned with stained glass, an abundant but soft light enters, which is reflected on the floor, the polished metal of the weapons and suits of armor, the bronze of the immense candelabra, and even stretches to touch the ribbed framework and paintings overhead. The strong yet delicate columns open on high like immense palm trees that protect the hall with their stone branches, with their coherent, sharp and smooth lines.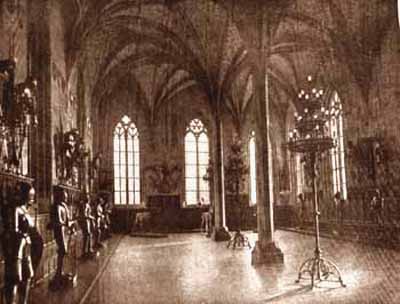 The room is intensely infused with a special ambience that invites ones to a repose without idleness or dissipation, a repose made up of reflection, gravity, balance and strength. The armor and the stuffed deer enrich this ambience with the echo of the valiant feats of the hunt and the battlefield. The delicacy and warmth of the carved wood break the stone's possibly excessive austerity. In the background on a pedestal, the image of a saint leads thoughts to Heaven.
No doubt this room reflects a mentality that will be pleasing to some, and perhaps displeasing to others. At any rate, in it the forms are admirably arranged to express its spirit. It is a hall for daily civilian use. It presents an ambience in which most of our ancestors would feel at ease living their day-to- day life.
*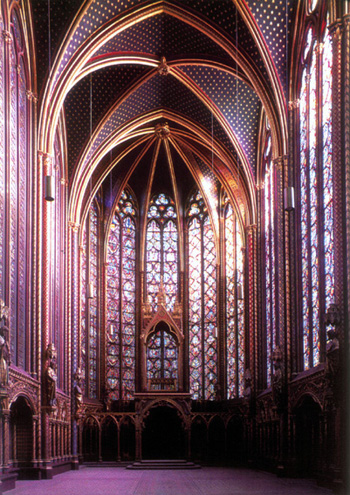 The
Sainte Chapelle
of Paris, which was built in the 13th century by St. Louis IX, King of France, to house some thorns from the Crown of Our Lord Jesus Christ, expresses the same mentality. It is not, however, as much turned toward the daily life, but rather toward prayer. The note of delicacy in it reaches the sublime. At the same time the strength, equilibrium, gravity and recollection lose nothing of their plenitude.
Ecclesiastics, artists and pilgrims throughout the centuries have seen in
Sainte Chapelle
– in the ambience palpitating in it, in the mentality expressed in its lines, colors, forms and general configuration – the archetypal expression of the Catholic soul.
The hall is Catholic, as is the Chapel. This is not only by the effect of the religious images and symbols that are in them, but also by the ambience that one breathes there and by the mentality that underlies this ambience.
From this one arrives at a broader concept. A work of art is not Catholic by the simple fact of being filled with symbols of our Holy Religion, just as a man does not become a monk by the simple fact of wearing a habit.
The soul that is present and palpitates in the art work must be Catholic for it to be called genuinely Christian. And the Christian ambience does not impregnate just buildings destined for worship, but any place that has in its configuration that unmistakable mark which a truly Christian soul expresses in everything he does.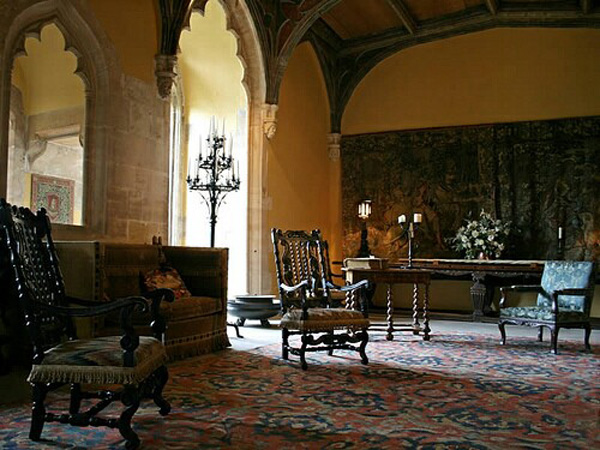 Medieval halls in Berkeley Castle, England, above; Warwick Castle, England, below first row, and Belcourt Castle, N.H., U.S., second row,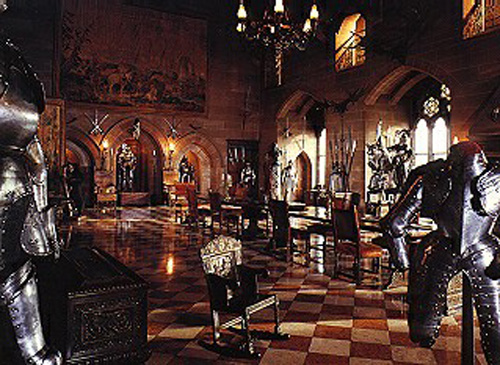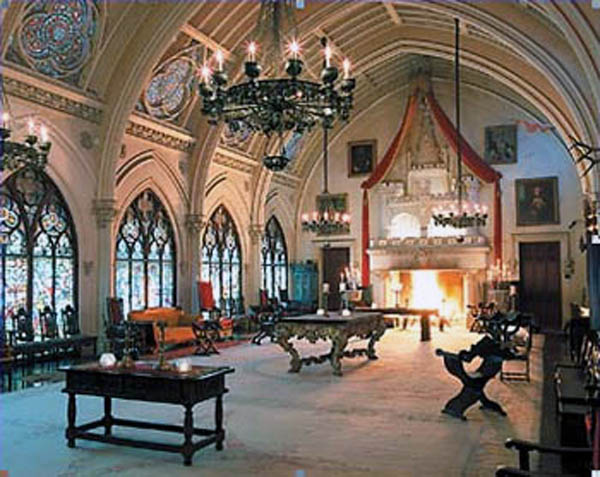 Catolicismo n. 24 – December 1952
Posted August 30, 2013