International Affairs
The Upcoming Putin-Obama Meeting
As "Benghazi-gate" threatens to explode and pressing questions are erupting over both how U.S. foreign policy is conducted and who is responsible for it, a highly anticipated meeting between Russian leader Vladimir Putin and Barak Obama is being prepared. This will be the "time of flexibility" to which Obama alluded during the infamous "hot mike" episode at the Nuclear Security Summit in South Korea on March 26, 2012.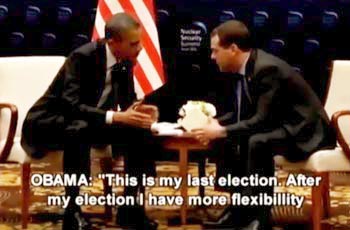 A flirt that increases...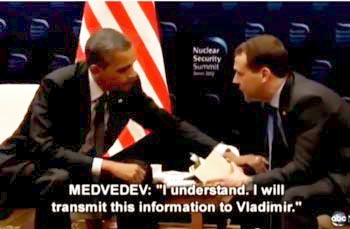 The interchange between Obama and then-Russian president Dmitry Medvedev can be heard
here
. You can also see the friendly, almost giddy interaction between the two.
The arrangements so far are that the meeting will be in Russia and "private." Moscow awaits Obama's proposal for a specific day. "Increasing trade and economic cooperation" between Russia and the U.S. will be discussed, according to
a report
in Russia's RIA Novsti, a leading state-controlled news agency.
One trusted Putin advisor, Sergei Markov, remarked, "Now that the elections are over, [Putin and Obama] can move on to the next stage," according to an
online repor
t from the
Christian Science Monitor
. "The bad period in our relationship is over, and there are objectively very good possibilities for a new beginning," Markov said.
It is vital for Americans to ask exactly what is meant by the "next stage" and what is involved in a "new beginning."
With steep budget cuts in defense already set to go into effect, Obama will represent a nation in military as well as economic decline.
Putin, on the other hand, leads a nation which has a reasonably strong economy and is engaged in an extensive military buildup and modernization program. Putin's Russia is also closely allied with China and has an ever-deepening military relationship. Contrary to the predictions of the pundits after the collapse of the Soviet Union, Russia does not stand with the West, it stands with China.
Obama's post-election "flexibility" may lead to America's anti-missile and nuclear capabilities being negotiated away.
For the upcoming meeting with Obama, Putin's main concerns, apart from undermining U.S. defenses, are money and technology. An increased level of trade with the U.S. brings cash into Russia, which helps with military expansion. More economic contact would also make espionage against the United States easier.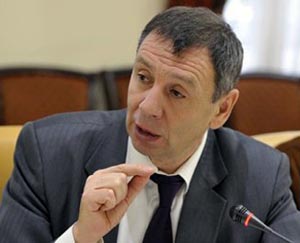 Sergei Markov: "With the elections over, we can move on to the next stage"
Two Russian spy rings have already been broken, one in 2010 (primarily in the New York area, apparently involving mostly agents of influence) and another in 2012 (based in Texas, concentrating on military espionage). Increased trade would bring greater opportunities for spying, and an emphasis on goodwill on the part of the U.S. would decrease vigilance against espionage.
Michael McConnell, then-Director of National Intelligence, stated in 2007 that spying by the Russians (and the Chinese) were at Cold War levels. Events since then have only confirmed McConnell's warnings. A closer, more trusting relationship with Moscow runs counter to all our recent experience in espionage.
Like the ever-dependable client state of Moscow and Beijing, Communist Cuba is as active as Russia and China in its espionage efforts against the U.S. Both China and Russia provide considerable aid to Cuba in gratitude - and payment - to Havana's considerable expertise in supplying information about the U.S. to them.
In reality, the "fall of Communism" did not even count as a blip on the spy screen, and, in recent years, Moscow has added cyber war to its anti-U.S. efforts. Millions of dollars and thousands of man/woman hours are devoted to blunting hundreds of cyber assaults daily launched from Russia and China against the United States.
Putin will also ensure that "increased trade and economic cooperation" will include investment funneled into Russia's version of Silicon Valley, an area referred to as Skolkovo. Already in 2010, then-governor of California Arnold Schwarzenegger led a group of eager high tech executives to the Russian high-tech center to discuss investment strategies directed toward Skolkovo. In the process, of course, America's technological lead would also begin to evaporate.
Moscow's desire for trade and investment is reasonable only as a friend of the United States. Past and present actions prove beyond doubt that the spy-elite who controls Russia is no real friend of the United States. Moscow, with its allies, is actively seeking dominance over the United States, a fact we cannot deny nor allow.

Posted December 7, 2012
Toby Westerman publishes
International News Analysis - Today
An investigative, analytical & uncompromising weekly analysis of the world situation

Contact T. Westerman at
www.inatoday.com
or P.O. BOX 5182, Rockford, ILL, 61125-0182