International Affairs
Ukrainians Feel 'Betrayed' by
the Francis-Kirill Declaration
On Friday February 12, 2016, Pope Francis and the "orthodox" patriarch of Moscow met in Havana to sign a lengthy statement with delicate, complex paragraphs concerning Ukraine.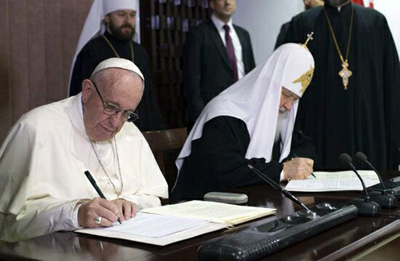 Delivering Catholic Ukrainians to Communist Russian Schismatics
This statement, quite pleasing to the patriarch of Moscow, qualifies as "unacceptable" the use of alleged "unfair means" that, according to the signers, would have been used in the Ukraine to "incite" believers to pass from the schismatic church dependent on the Kremlin to the Catholic Church dependent on Rome (cf. Vatican official editions in Portuguese,
English
and Italian, the official Spanish version uses the expression "improper means"; the English version translates as "disloyal means").
This censorship for alleged "disloyalty" or "inappropriate" methods is unusually severe – and even unjust – because it censures the Ukrainian Catholics, called Uniates, who for decades resisted the influence of the pro-communist Moscow patriarchate and who, when the Soviet empire fell, adhered to Catholicism. A few lines later, the joint statement makes another harsh blow, condemning "the past method of 'uniatism.'"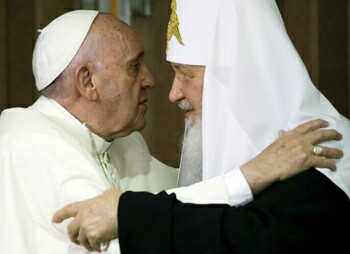 The red kiss – Two agents of Communism celebrate in Cuba a victory of their common cause
It is no wonder that the joint statement caused shock among many Ukrainian Catholics. This was acknowledged by Major Archbishop of Kiev, Primate of the Greek-Catholic Church of Ukraine united to Rome, Sviatoslav Shevchuk: "Undoubtedly, the text of the joint statement has caused deep disappointment among many faithful of our Church and among conscientious citizens of Ukraine."
The Archbishop Shevchuk added that many Ukrainians had contacted him to express that they felt "betrayed by the Vatican" and were disappointed by the "half truths" in the document. They said they even saw it as "indirect support by the Apostolic See for Russian aggression against Ukraine."
"From our experience, gained over many years, we can say that when the Vatican and Moscow organize meetings or sign joint texts, it is difficult to expect something good," said the Catholic Archbishop of Kiev.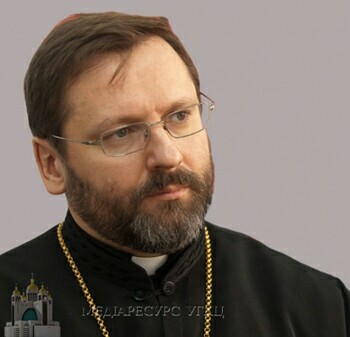 Arch. Sviatoslav Shevchuk: 'It is dificult to expect something good from today's Vatican'
Among other things, he added, "I would note that, as the Head of our Church, I am an official member of the Pontifical Council for Promoting Christian Unity, appointed by Benedict XVI. However, no one invited me to express my thoughts and so, essentially, as had already happened previously, they spoke about us without us, without giving us a voice."
We invite readers to follow the links provided below to the full text in English of two interviews granted by Catholic Archbishop Sviatoslav Shevchuk. The first was issued a few days before the signing of the joint statement of Havana and the second was given one day after the join declaration. Because of the importance of the issue, we strongly recommend reading both interviews.
"I do not expect that much will change
," – His Beatitude Sviatoslav on the Meeting of Pope Francis With Patriarch Kirill, Saturday, 06 February 2016 11:56
"
Two Parallel Worlds
" – An Interview with His Beatitude Sviatoslav given on Sunday, 14 February 2016

Posted February 22, 2016
| | | |
| --- | --- | --- |
| Volume I | Volume II | Volume III |
| Volume IV | Volume V | Volume VI |
| Volume VII | Volume VIII | Volume IX |
| Volume XI | Special Edition | Special Edition |