Objections
Stop Criticizing Pius XII, I Can't Bear It...
Dr. Byrne responds:
Dear Mrs. T.C.,
It is evident from our correspondence that we have divergent views on Pope Pius XII. Would it not have been more appropriate – and charitable – if you had stated your opinions without accusing me of bias, pretense and deception simply because we do not agree? The problem is that your accusations do not rest on specifics that can be answered.
You have obviously borrowed the term "hindsight bias" from the parlance of modern psychology and applied it indiscriminately to me. My intention was not to "diss" Pius XII. If you had read all the articles in my series, you would have seen that I do give him credit where it is due, one example being his superb teaching on the Mass and the role of the priest.
I find it curious that in some traditional circles Catholics react with horror and outrage at any criticism of Pius XII and that the whole subject has become, as it were, radioactively off limits. But I adhere to the principle "if the
zucchetto
fits, wear it." And if you had read all the articles, you would have found what you are now demanding: "solid proof" of a direct link between the liturgical reforms of Pius XII and those of Paul VI (
here
&
here
). I have provided references to official documents of the Holy See in Pius XII's time (
here
,
here
,
here
&
here
) and also to other historical sources from the 1950s onwards, which provide the required evidence (
here
,
here
&
here
)
In fact, it was Paul VI himself who showed the seamless nature of this link when he promulgated the New Mass on April 3, 1969:
"It was felt necessary to revise and enrich the formulae of the Roman Missal. The first stage of such a reform was the work of Our Predecessor Pius XII with the reform of the Easter Vigil and the rites of Holy Week, which constituted the first step in the adaptation of the Roman Missal to the contemporary way of thinking."
You mentioned the role of secret societies in undermining the pontificate of Pius XII. I agree with you there. But it is hardly to the credit of Pius XII that the Liturgical Commission he established in 1948 was conducted in
complete secrecy
and headed by
Bugnini,
a man who, on his own admission, was considered by Paul VI to be a Freemason.
As for Pope Pius X's campaign against Modernism, he took active measures against offenders and had a considerable measure of success, whereas Pius XII greatly accelerated Modernist tendencies already in course.
By the way, I think that, while avoiding the trap of, ahem, bias, we should not dismiss the vantage of hindsight in providing a clear perspective for the present and the future: like the ancient Romans building their straight roads, if we are to move forward intelligently we must have a clear view of where we have been.
I cannot expect to be popular when revealing unpleasant truths which some people would rather keep hidden. Fortunately, however, not everyone has dismissed the conclusions of my research as mere conjecture; some have been kind enough to express their appreciation for it. (
here
,
here
,
here
,
here
&
here
) And this brings to mind the maxim of the Latin writer Terentianus Maurus:
Pro captu lectoris, habent sua fata libelli.
The fate of authors, like that of their writings, depends upon the capacity of their readers.
Yours sincerely,
Dr. Carol Byrne
Posted October 22, 2015
______________________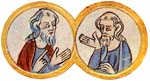 ______________________


______________________