Progressivism in the Church
Church Revolution in Pictures

Photo of the Week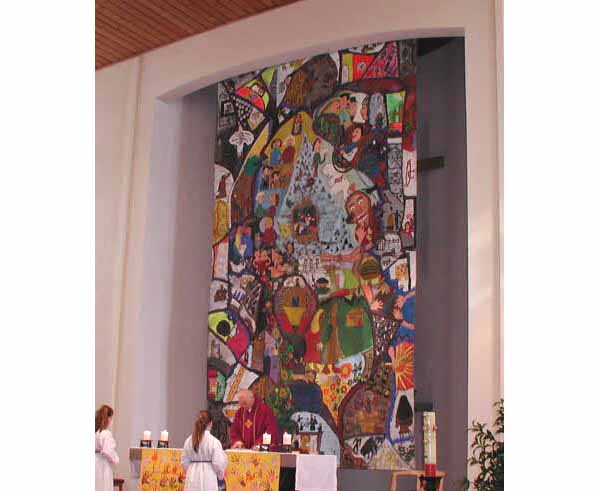 Good Friday in Villach, Austria
To commemorate Good Friday, the parish priest of the small city of Villach, Austria could find nothing better to do than display a Picasso style panel with extravagant figures and colors behind the altar.

In the photo above you see him preparing for the ceremony on Good Friday, 2007, where altar girls played a relevant role.

It is hardly a penitential ambience befitting the death of our Redeemer. However, it is certainly attune with the spirit of Vatican II.

Villach is under the jurisdiction of the Bishop of Gurk, Alois Schwarz, subordinate to the Cardinal of Vienna, Christoph von Schonborn.
Posted April 12, 2009

Related Topics of Interest

French Diocese Presents Christ as an Extra-Terrestrial

Dance Festival in St. Gallen Cathedral

An Immoral Art Exposition in Brussels Notre Dame Chapel

A Theater Play Desecrates a Church in Lucerne

Dervishes Perform in the Votive Church of Vienna

Niederauer's Desecration of the Holy Eucharist

Hindu Dances at Lourdes

Women Replace the Crucified Christ in Germany
Pictures | Home | Books | CDs | Search | Contact Us | Donate



© 2002- Tradition in Action, Inc. All Rights Reserved