Progressivism in the Church
Church Revolution in Pictures
Photo of the Week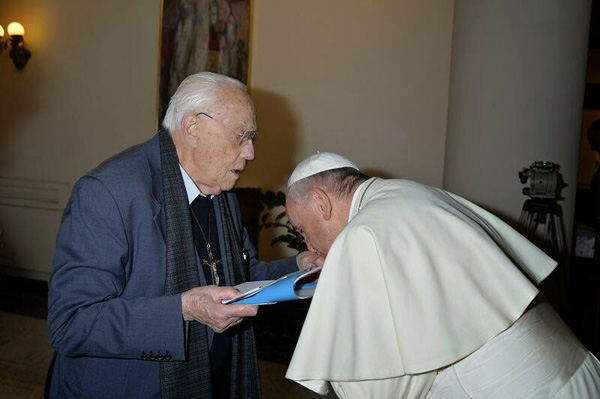 Pope Bergoglio kisses the hand of pro-homo priest
On May 6, 2014, in a private audience at Santa Marta Inn, Pope Bergoglio kissed the hand of Salesian Fr. Michele de Paolis, above, founder of the Community on the Road to Emmaus - an association to help marginalized people. Before the audience Paolis concelebrated Mass with Francis at his chapel. Paolis read the Gospel of the Mass, below first row.

Paolis, a priest from Foggia, South Italy, is a partisan of Liberation Theology. On his Facebook page, he defines himself: "I feel anticlerical, that is, of belonging to no caste, no category; I do not feel part of an official religion. I try to give peace and joy to persons who are in the most dramatic situations of existence: infidels, the unchurched, the divorced, those seeking abortions, homosexuals, the desperate, a variety of marginalized persons. I seek the light of the Gospel in the Church on controversial issues, such as the celibacy of priests, women priests, pedophilia, [sexual transmitted] diseases and euthanasia."

In 2010, Paolis, together with Gabriele Scalfarotto, founded a homosexual group called AFeDO. Later, the priest wrote in an article for a LGBT group in Lecce: "Those who want to make you 'heterosexuals,' as it is called, force you to act against your nature and make you unhappy psychopaths. We need to keep in mind that God, our Father, wants us, his children, to be happy, by making fruitful the gifts that He has placed in our 'nature.' ... You have the right to look for a partner. ... Live your love with joy. And with our mother Church we must have patience. Her attitude regarding homosexuals will change. In this sense numerous initiatives have already started."

In another essay, Paolis wrote this about homosexuality: "We must liberate our thinking from a danger: fundamentalism, that is, to take literally what the Bible says. The new obedience to the Gospel is free, responsible and conscious. Instead of wasting energy in endless religious polemics, it aims towards a new Christian spirituality of joyful acceptance of yourself, being grateful to God, knowing that homosexual love is His gift, which is no less than that of the heterosexual." (These data were taken from Giuseppe Nardi)

It is remarkable that Francis wanted to glorify this priest by kissing his hand. After his "Who am I to judge" declaration, this is another spectacular blow favoring homosexuality.

Below second row, Francis beeing caressed by Msgr. Battista Ricca, the alleged homosexual priest the Pope chose to reform the Institute of Religious Works.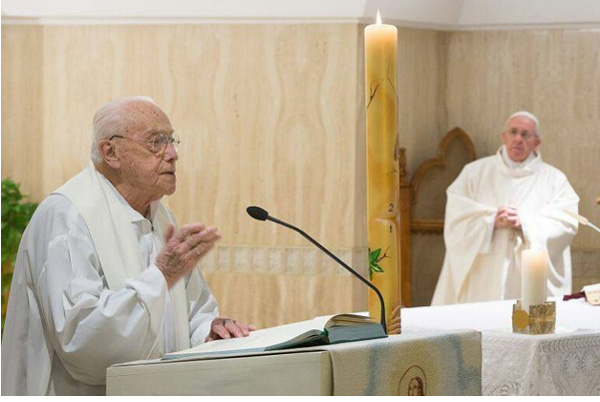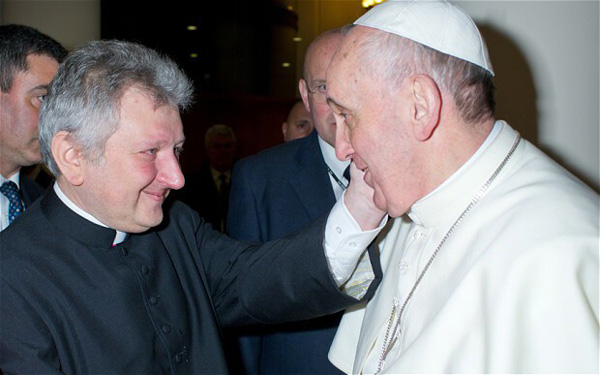 Posted May 11, 2014
________________________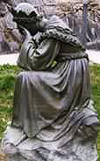 Our Lady of La Salette,
restore the Holy Church.