Progressivism in the Church
Church Revolution in Pictures
Photo of the Week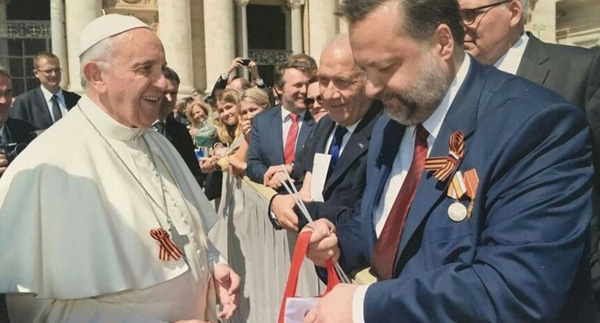 Francis puts on communist decoration
On May 4, 2016, Pavel Dorokhin, a communist member of the Russian Parliament,
second from the right
, gave Pope Francis a ribbon to commemorate the May 9 victory of Communist Russia over Nazi Germany. Dorokhin reports the event to the RIA news agency :
"Yesterday I had an opportunity to attend a papal audience in St. Peter's Square in the Vatican."
"They put me in the front row in the VIP box. I told the Pope that with Victory Day now five days away, I wanted to present him with a medal commemorating the 70th anniversary of our great victory over Nazi Germany. I told him about the 26 million lives our people sacrificed during WW2 and asked him to put on a St. George ribbon in a sign of solidarity with our people. The Pope attached it to his robe and we talked on."
The distribution of the St. George ribbon has been associated in the countries of the ex-USSR with the promotion of the Soviet Regime and the desire to return to it. For confirmation, please read from communist sources
here
and
here
.
So, with this symbolic gesture of solidarity, we have Francis indirectly promoting the return of Russia to the Union of the Socialist Soviet Republics...
Original news report
here
.
Posted May 15, 2016
________________________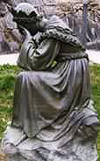 Our Lady of La Salette,
restore the Holy Church.