Progressivism in the Church
Church Revolution in Pictures
Photo of the Week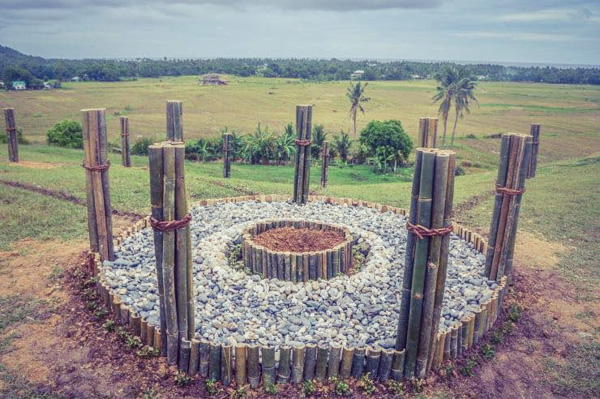 Laudato Si chapel in the Philippines
On November 7, 2020, an open-air "chapel" was inaugurated in honor of
Laudato Si
, Francis' Encyclical on ecology.
The parish priest at Santo Niño Church in Sibuyan Island in the Philippines, Fr. Francis Formal, took the initiative to build this "chapel" to enforce the guidelines on integral ecology issued by Francis.
Its surface of stones is bordered by seven bamboo pillars. In the center of this heptagram there is a slightly upraised circle bed of earth. In its center a local tree called "
tigà
," a species threatened by extinction, was planted.
These "chapels" of "spiritual ecology" have been encouraged to be built by the Vatican's Dicastery for Promoting Integral Human Development. The first two were constructed as models in Rome and Venice.
They are being called LLS – Living
Laudato Si
Chapels – and the Vatican hopes that the local Basic Ecclesial Communities or Christian Base Communities, will spread this type of "chapel."
After
venerating Pachamama
– Mother Earth – in the Vatican, and placing the
Amazon Synod under the aegis of that idol
, now the Vatican is
spreading a "devotion
" to that pagan deity, thus giving a specific religious character to the pagan cult to the earth.
We see the Conciliar Church entering the sphere of the occult. Indeed, if we consider the external form of the
heptagram
or the internal
circle
, we see that both can easily be related to occult practices.
So, at the end of the hurricane of novelties introduced by Progressivism, Vatican II and the Conciliar Popes they end by merging with the old Occultism. It is the Father of the Lies who inspired this whole Revolution, and now he comes to ask his final tribute: the adoration of his followers...
We post the last four rows to show the analogies between the shapes chosen to make this ecological "chapel" – the heptagram and the circle – and those of occult rituals.



Posted December 6, 2020
________________________