Progressivism in the Church
Church Revolution in Pictures
Photo of the Week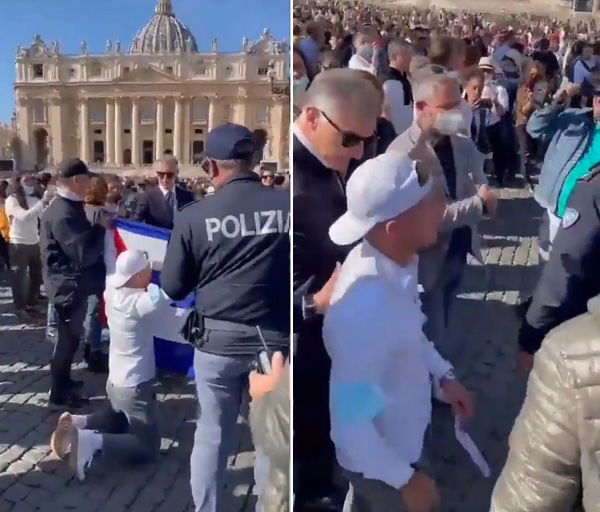 Vatican Police forbids Cuban flag in St. Peter's Square
On October 24, 2021, the Vatican Police forbade exiled Cubans to attend the Pope's
Angelus
. From early morning there was an explicit prohibition against allowing Cuban refugees living in Italy to enter St. Peter's Square,
below, second to fifth rows
.
One young man, however, was able to cross the barrier and waited for the beginning of the papal reading message after the
Angelus
. Then, on his knees, he silently displayed the Cuban flag,
below, first row
. Soon afterwards, he was surrounded by Vatican security police who confiscated the flag and escorted him out of the Square,
above
and
below, last two rows
.
The alleged reason was that the Vatican does not allow political manifestations on its domains.
It is hard to believe that to quietly kneel and hold one's country flag could be considered a political manifestation. This is all the more incomprehensible when we know that Pope Francis
has appeared
on St. Peter's Square surrounded by Chinese flags, smiling warmly and shaking the hands of members of communist delegations.
Those Cubans who were forbidden to enter the Vatican State were only asking mercy for the Cuban people. They sought a word from the Pope supporting the human rights of the people on their Island, which have been violated for more than half a century. If Catholics cannot ask this favor from their Pope, it means that he does not consider them as his children, but rather as enemies.
Nothing in this episode was political, but ideological. Pope Francis did not allow the Cubans in Vatican Square because he favors Communism in Cuba. (See
here
,
here
,
here
,
here
,
here
and
here
)
This is the sad reality that once again becomes crystal clear.
Videos on this episode can be seen
here
,
here
and
here
.

Posted November 7, 2021
________________________