Progressivism in the Church
Church Revolution in Pictures
Photo of the Week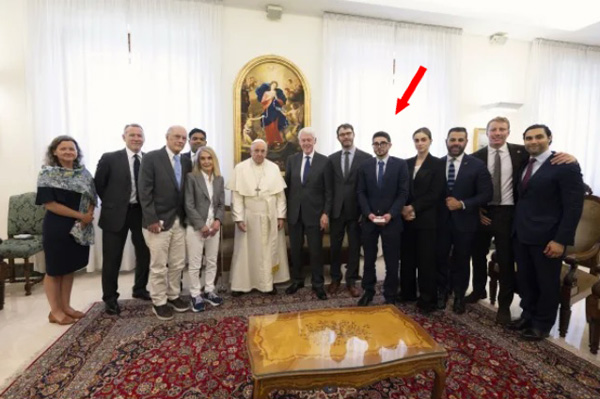 Francis receives pro-abortion Alex Soros
On July 5, 2023, Pope Francis received ex-President Bill Clinton and a delegation that included Alexander Soros,
above and below first row
. Alex Soros is the son of George Soros, who
handed control
of his Open Society Foundation to Alex about one month before.
According to
Catholic News Agency
, Open Society has funded efforts to legalize abortion in Ireland, Poland, Mexico and other traditionally Catholic countries.
It is not admissible for the Pope to give prestige to the abortionist Bill Clinton along with Alex Soros, who
has already announced
that he will push an agenda far more leftist than his father.
Nonetheless, at the meeting Francis honored the two enemies of Catholic Morals by placing Clinton at his right and Soros, with his unidentified female companion, at his left, as documented in the blurred photo in the
second row
.
At the end of the meeting Clinton embraced Francis,
last row
.

Posted July 16, 2023