Progressivism in the Church
Church Revolution in Pictures
Photo of the Week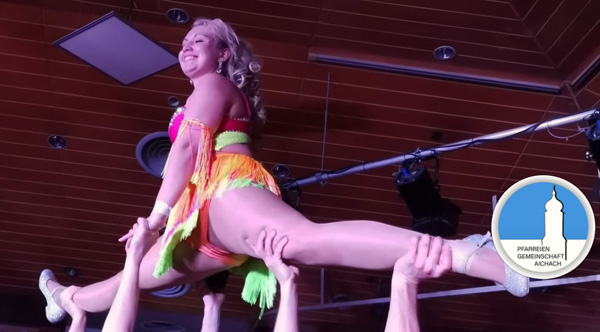 Indecent carnival jubilee in German parish
Fr. Herbert Gugler, parish priest of Mary Assumption Day Church, decided to officially commemorate the 50th anniversary of the Partaalia Aichach Carnival Society in the St. Michael Cultural Center of his parish. His parish is in Aichach, in Bavaria, Germany.
The event took place on May 5-6, 2023, and it included a review of various carnival costumes used by the Carnival Society performers during the last 50 years, including the latest from its February 10, 2023 performance,
above
and the
first five rows below
.
In the
rows that follow
we see different costumes worn by the same dancers for performances of the past.
The degree of license in dancing, dressing and touching is scandalous and boldly indecent. But it was permitted and approved by Fr. Herbert Gugler, who was leading the audience at the commemorative performance in the Cultural Center he directs.
Last row
, a laughing Gugler holds hands with Francis in St. Peter's Square.
A photo report of the event can be found
here
.


Posted July 30, 2023

___________________________
________________________