The Saint of the Day
St. Benedict the Moor – April 4
As a means to thwart those who attribute a man's ability to his race, one need only consider the illustrious example of St. Benedict the Moor, known in Portugal as "the Holy Black" and beloved throughout the Latin world. This Saint, less well-known in the English speaking countries, provides an extraordinary example of a life of humility, but one that merited extraordinary graces from God.
Early life
Born near Messina, Sicily, St. Benedict was a free son to African parents who had been slaves. In his childhood his parents diligently taught him the ways of devotion to the Blessed Virgin, and from an early age he attracted admiration for his sanctity.
As he grew older he worked for the master of his parents, laboring in the fields as he raised his heart and mind constantly in prayer to the ever-living God. It was during this time that Benedict encountered a holy hermit by the name of Fr. Jerome Lanza.
A telling episode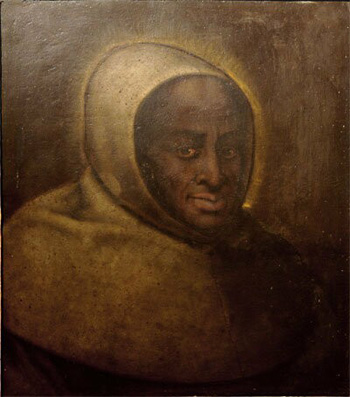 San Benedetto of Palermo
Fr. Lanza was a knight who had given up his extensive patrimony to become a Franciscan hermit. One day while walking he beheld Benedict amidst a group of idle harvesters that were viciously mocking him with demeaning racial slurs. As he watched, Fr. Lanza perceived that despite the insults Benedict bore the abuse with the utmost patience and purity of soul. Impressed, Fr. Lanza stepped forward and rebuked the workers, asking Benedict to consider joining him and the other Franciscans dedicated to God. Shortly thereafter Benedict sold his oxen, of which he was proud, and abandoned the world to walk more perfectly in the path of Our Lord.
The Franciscans at this time were dedicated to austere mortifications. No modern order can conceive the penances suffered by these holy hermits of the Sicilian mountains.
Miracle worker
Amongst the Franciscans St. Benedict quickly began to shine with eminent virtues, and the simple people of the countryside started to seek him out for advice in their troubles. Even the wild beasts respected the cave where the Franciscans kept their long vigils and austere fasts. St. Benedict reported that he was harrowed by a demon, an angel of Satan who tormented him like he did to St. Anthony. It was in this Franciscan cave that he began to work miraculous cures, for God so willed that He should be known through His humble servant.
So it was that St. Benedict began to not only give divinely inspired counsels, but soon he began to work miracles. Through prayer and the sign of the Cross St. Benedict cured maladies afflicting those who implored his help. The word began to spread and the small Franciscan grotto became nearly overwhelmed by those seeking cures from this saintly man of God. However, soon the Franciscans saw that the people of this countryside abused God's miracles, and so they moved the hermitage to a mountain outside of Pellegrino. After Fr. Lanza's death, St. Benedict was immediately elected head of the community.
The Franciscans underwent the reforms of Pius IV, and St. Benedict was eventually called to the Monastery of St. Mary of Jesus. There he spent the rest of his life, and it was the retreat of countless wonders.
Life in Palermo
In the Monastery of Palermo St. Benedict's life shone in virtue in proportion to the degree that he tried to hide it. So great was his love of poverty that he went barefoot, even in winter, and did not allow himself the use of anything beyond the most bare necessities. Again, many began to seek him out for guidance and healings, and in all humility he obeyed when called, scarcely having any time to rest or retire into his beloved solitude.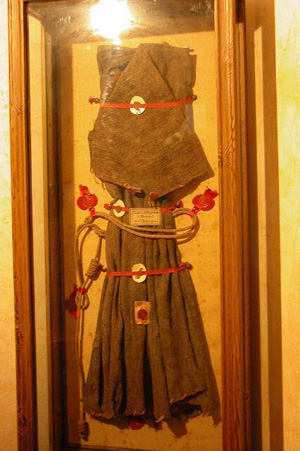 St. Benedict's habit
In prayer his face was often seen bathed in a miraculous light. Once, his cell was so illuminated by these rays that the other brothers ran there with water, believing a fire to have started in the Monastery. The more healings he performed the more people clamored for his intercessions. His superiors ordered that he must answer all calls to him and the number grew so great that the gatekeeper began to insult and berate him for bringing so many to the monastery. Sometimes he would hide in bushes and pray while hidden that a visitor may be healed. When confronted on it, he claimed it was the Blessed Virgin who made the miracle and that nothing could be attributed to himself.
Through obedience he operated as the monastery cook, a most humble position. There he was seen being assisted by Angels when occasion arose to prepare food for unexpected guests. To further mortify himself he would allow himself to taste of food, but then refused to eat any as a way to deny the flesh that which it was brought to crave. Under him food was often miraculously multiplied.
Soon it was time to select a guardian of the monastery, and despite his earnest protests he, an uneducated and illiterate man, was elected. As leader he tended to the sick, provided for the poor, admonished the wavering, and fulfilled his duties excellently. Afterwards, he was elected Vicar and Novice Master. His example inspired all.
After his term as Vicar expired he retired to the kitchen once more and continued to perform the most astonishing miracles. Finally, after predicting the course of his own illness, he committed his soul to God and died in the odor of sanctity. The crowds of Palermo mourned his passing, and he was selected to be Patron Saint of the city.
Conclusion
Here I do not present an exhaustive list of the virtues, deeds, qualities and miracles of this extraordinary Saint. Even a slight understanding of his example should be enough to inspire all.
With profound humility and deepest patience he worked at the meanest occupations and underwent the most grueling penances. Over the country the sick, rich and poor alike, begged his intercession with God to grant them healing. His miracles were known throughout the Latin world and his insight on many matters, secular and religious, was divinely inspired.
It was common to see men of learning, gray with age and knowledge, unashamedly seeking the counsel of this poor and simple monk who had neither learned to read nor write. His gift of prophecy astounded many around him, and he attributed everything to God and afforded himself nothing but the most austere mortifications. Thus God confounds the pride of the world, revealing the highest treasures to those who are humble.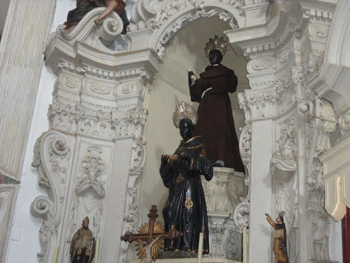 Statues of St. Benedict, above, and St. Antony of Catalagirona in the Church Our Lady of the Rosary of the Black Men in São João del Rey, Brazil
The Church had not any hesitation in raising this black monk to the honor of the altar, making of him an example of her equal appreciation for those virtuous men coming from any race whatsoever. Indeed, whether a virtuous man is black, yellow or white she is the Mother of all and the encouragement for all to fulfill that image and likeness of God which he was called to be, according to the characteristics of each race. We men are called to love God and become a reflection of Him within the race we were born.
The marvelous life of St. Benedict tells us that this Black Saint is worthy of as much veneration as great Saints of other races. In him, we understand one of the many avenues through which the black race can shine before the eyes of History. In him we see humility, resignation and poverty, making a harmonious balance with another great black,
St. Elesbaan
, who in his life reflected majesty, justice, combativeness and a sense of orthodoxy. St. Benedict and St. Elesbaan are two facets of the great vocation of the black people, who were always welcome in the bosom of the Church, as they are in the Heart of Jesus in Heaven.
Let those who condemn their fellow man on something as crass as skin color be confounded, like the mocking harvesters of St. Benedict's youth, by a Saint so great that he was revered as such in life and is venerated worldwide after his death.
God be thanked for the example given us by St. Benedict the black, Patron Saint of Palermo, worker of miracles. St. Benedict, we pray that you may bewilder those who unjustly denigrate their neighbors. Show them that the true way of life is not to be found in denying that all are called to be images and likenesses of God, but in accepting and admiring the great qualities of each race. Let them be converted so that they may find their own way to God.
| | | |
| --- | --- | --- |
| Volume I | Volume II | Volume III |
| Volume IV | Volume V | Volume VI |
| Volume VII | Volume VIII | Volume IX |
| Volume X | Volume XI | Special Edition |