Movie Review
Jesus Christ Superstar -
Bad Now, Then & Always
Review of the movie Jesus Christ Superstar (the 1971 Broadway production by
Andrew Lloyd Webber and Tim Rice, et al)



Elizabeth Ann Lozowski
A reader recently sent this question to TIA: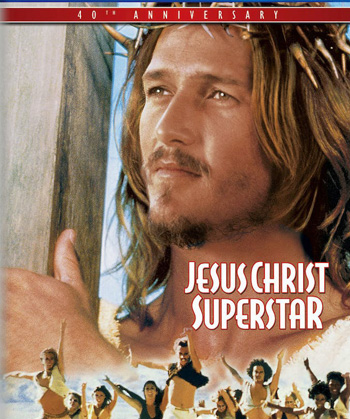 The original 1971 production shocked many; hundreds of others shows followed, always portraying a confused Christ & misunderstood Judas, below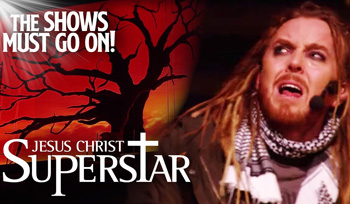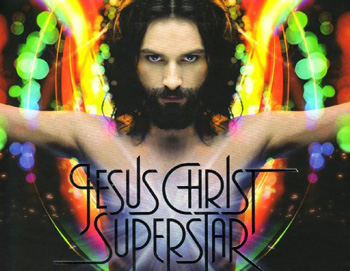 Above, an occult looking Christ in a Swedish film; below a theater with a hippy Christ & Magdalene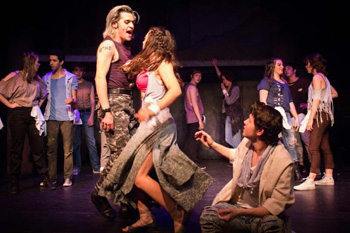 I am asking about the Broadway musical
Jesus Christ Superstar
, written by Andrew Lloyd Webber and Tim Rice. The plot depicts the last seven days of Jesus before he was crucified. Some religious groups attacked it while others praised it. Is
Jesus Christ Superstar
a good show for Christians today?
As readers might know, this is one of the first rock musicals based on the Gospels;
Jesus Christ Superstar
was first performed in 1971. In the 1970s, the production caused quite a stir, with many Catholics violently opposed, while the more hip progressivist circles showered praise on this novel portrayal of Our Lord as a mere man, somewhat confused about his mission and attracted in a romantic way to Mary Magdalene.
Since then, there have been multiple productions, films, television shows, recordings and other adaptations of the musical. Of course, that initial criticism has subsided since so many other films of this genre of "Christ as an ordinary man" have been produced.
The Broadway show
Jesus Christ Superstar
is not an acceptable show for true Christians,
that is Catholics
, because of its blasphemy, irreverence, immodesty and immorality. Beginning shortly before Christ's Passion, the musical is set from the perspective of Judas, who manifests his disagreement with the way Jesus is leading his disciples.
The inner turmoil of Judas and the frustration of Jesus with his followers envelop the entirety of the plot as a conflict ensues between peace, for which Judas ardently longs, and war, to which Jesus' followers are heading. Immodestly clad actors and actresses dance sensuously around the stage amidst screaming rock songs to complete the rock concert life of Christ.
Setting aside the fact that rock music is demonic, as demonstrated in these articles (
here
,
here
,
here
,
here
,
here
,
here
and
here
), the other elements of the musical should inspire righteous anger in the Catholic viewer.
A sentimental, worldly Jesus is portrayed on stage in this production. Throughout the musical, Jesus is seen complaining, using vulgar language, giving into frustration and uncontrolled anger, criticizing his apostles and calling them names, desiring the praise of the world, in short, doing everything that a modern man would in his place. He is, as the name of the show implies, a rock star who does not know how to fulfill his mission – which is shrewdly left unnamed.
I will list but a few examples demonstrating the sacrilegious character of
Jesus Christ Superstar:
Mary Magdalene is portrayed as being Jesus' lover, indecently comforting him in a provocative manner when he is upset with his followers. In one scene, she sings "I Don't Know How to Love Him," quite suggestive words standing alone. But the song becomes much worse: Manifesting her romantic attraction to Jesus, she croons rock-style saying, "I want him so / I love him so."



A blasphemous portrayal of Magdalene
as Christ's puported 'lover'

A sampling of the lyrics are the following: "I don't know how to love him / I don't know why he moves me / He's a man / He's just a man / . . . He scares me so."

Strangely, Judas sings these same words before he kills himself at the end of the musical. Whatever the implications may be, it is clear that the goal of the musical is to instill in the mind of the viewer that Jesus is only a man, who, like other men, arouses romantic feelings in women.


In another scene, "Gethsemane," Jesus is depicted singing a song "I Only Want to Say,'' in which he criticizes God, asking him why he has to die, and makes known his desire to be honored by the world. With lyrics such as "If I die what will be my reward?" and "I'm not as sure, as when we started / Then, I was inspired / Now, I'm sad and tired," the song belittles Our Lord's nobility of spirit.

When Jesus supposedly submits to God's will at the end of the song, he exclaims, "Take me now before I change my mind," a statement that seems to mock Our Lord's conformity to God's will, making it conditional rather than absolute. As Catholics, we know Our Lord willingly embraced His Cross in His desire to atone for the sins of man. His agony was not caused by a lack of understanding or fear of His mission, but rather by the sins of men and their rejection of Him.



The Last Supper becomes a casual picnic

Perhaps the most profane scene in the entire movie is "The Last Supper." Jesus sits among his disciples and angrily criticizes them for not paying enough attention to him. At the climax of the scene, he says, "For all you care this wine could be my blood, for all you care this could be my body."

This statement and the general lack of dignity at this most important of all Meals should rightly outrage any good Catholic, for it blasphemously mocks the true presence of Our Lord Body, Blood, Soul, and Divinity in the Holy Eucharist.
The star of
Jesus Christ Superstar
is really Judas, not Jesus. Judas is a logical, good-willed disciple of Jesus, who disagrees with the way the people are reacting to his master, believing it will end in war and death. He only desires to do what is right: to help the poor (for which reason he accepts the money from the Pharisees) and to maintain peace.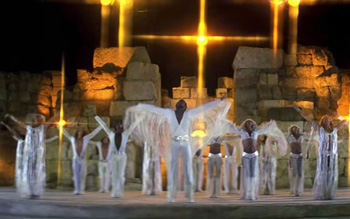 At the end Judas returns as a rock'n roll 'angel'
Fearing an uprising, Judas betrays Jesus because he believes it is what Jesus himself desires. Jesus, who does not know why or what he is doing and lets everything "get out of hand," is easy to criticize, for as Judas repeatedly says, he does not "have a plan." Indeed, the viewer is led to sympathize with the traitor and to question Our Lord's actions.
Jesus, in this musical, is just a man, not the Redeemer and certainly not God. In fact, there is no mention of his coming to redeem man from their sins or to save them from Hell; in the end it even appears that Judas could be saved, for his ghost returns to the stage. The ending leads the viewer to question what was the point of Jesus' death and why he came, as a glorified ghost of Judas questions Jesus' choices.
"
Tell me what you think about your friends at the top.
Who'd you think besides yourself's the pick of the crop?
Buddha, was he where it's at? Is he where you are?
Could Mohammed move a mountain, or was that just PR?
Did you mean to die like that? Was that a mistake, or
Did you know your messy death would be a record breaker?
Don't you get me wrong.
I only want to know.
"
"
Jesus Christ, Jesus Christ,
Who are you? What have you sacrificed?
Jesus Christ Superstar,
Do you think you're what they say you are?
"
Thus is Jesus depicted as a leader of the masses who was never understood by them and who died only so that his name could become known. The crucifixion and death of Jesus bring the musical to a final ending without hope, and without even an allusion to the Resurrection.
In conclusion, the satanic music, impurity, vulgarity and blasphemy make this show unfit for any good Christian to watch. Instead, it should be condemned and rejected by all who truly love Our Lord Jesus Christ, true God and true Man.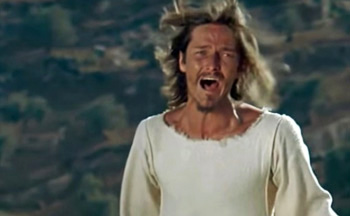 At Gethsemane the Superstar Jesus questions
God's will & asks why he has to die

Posted February 8, 2023