Catholic Virtues
The Thirst for Souls - III
Different Types of Romantic Affection
In the
first article
of this series I noted that there are two types of souls: those who have a thirst for souls and others who have a thirst for advantages. The latter properly speaking do not have a thirst for souls since their purpose for engaging with others is, to one degree or another, utilitarian.
In the
second article
I looked at the different types of who have the need for merely material advantages in their relations with others.
Here we will looks at the romantic type: the romantic need of one soul for another.
What is the romantic type like?
The Latino romantic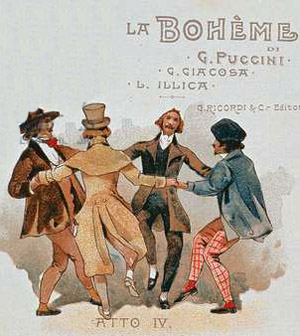 Some people enter the Bohemian life seeking friendship
He feels the need for a contact of soul with others in order either to complete himself or to feel an affinity with others. In this point, the romantic – above all the Latino – is not content with metaphysical thoughts, but seeks friendship. Often he looks for a bohemian life, but he is still a utilitarian. That is to say, he is looking for some personal advantage.
The German romantic
When we see how the romantic way of considering friendship – the country that most romanticized friendship was Germany – we see the pleasure of affinity.
For example, those marches in straight columns of Germans who walk toward death, making the "
paradenmarch
" (march as for a parade) as the machine gun decimates them as they continue to walk forward. They die in a type of inebriety of feeling themselves together. United, they walk toward death, and in this way they overcome, to this extreme, the abyss that separates one soul from another. This, for them, is friendship.
A characteristic scene – for a Brazilian, it is incomprehensible – is that of two Germans drinking beer. They are conversing about some topic – a business matter or a favorite music – and they find themselves in agreement about the music or a political party or a philosophical point.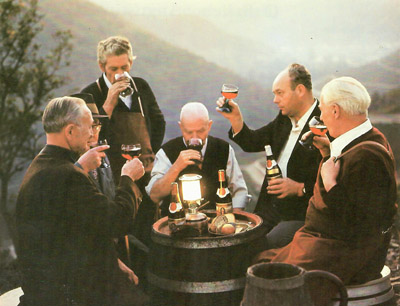 Germans toast when they reach an intellectual conclusion
The two elaborate, further expounding on the topic. When they arrive at some conclusion and fall into accord, they raise their beers, clank the mugs together and drink. Then, they remain quiet for a short while, enjoying the sublimity of the moment that they reached. It is the delight of feeling the similarity between one and the other.
What is curious is that the German seeks a similarity in another man and a dissimilarity in a woman. It is something the Latin does not understand: Why would a man burden himself with a dissimilar woman? What could be more irritating than that? Scriptures says that a quarrelsome wife is like the dripping of a leaky roof on a rainy day (Prov 27:15). Among Brazilian I have rarely seen a man who looks for a dissimilar woman.
But, for the German, no. The woman does not need to be beautiful: this is secondary. Lorelei was beautiful because she had all the qualities. But, for the German, what is beautiful is a woman who is, among other things, jocose, amusing.
I knew a German bar where there was an enormous German woman, dancing and posing as if she were a black butterfly. The German men who frequented the place thought this was very charming. Many of those present, not Germans, were laughing, cynically and mockingly, at everything. They were laughing at the German spirit; it was a bad mockery because, deep down, they were laughing at seriousness.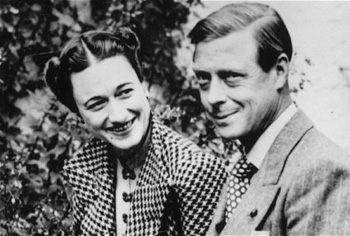 The Prince of Wales was charmed by the challenging Simpson
Beyond this, the woman should know surprising and always new things to say to the man, to stimulate him to new thoughts, by means of opposition. There are English ladies who have also this tendency.
I recall reading in the
Memoires
of the Prince of Wales [the future Edward VIII] the story of how he met Wallis Simpson. They introduced Simpson to him and he began a conversation about hotels, saying that those of England were not as good as the hotels in America, from where she came.
Then, she gave him a spirited laugh and said, "I did not think that one could speak with the Prince of Wales about such a banality."
He was subjugated. It was an unexpected provocation: something he did not imagine that began to play with him. Then the 'strong man' became enraptured with the dragonfly.
The Buissonnets
Where one feels a very elevated type of convivium of soul, in the ambience of Romanticism but without its defects, Romanticism, is in
Les Buissonnets
of St. Therese of the Child Jesus.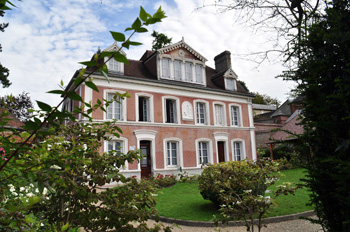 The Buissonets where St. Therese spent her childhood
When one visits
Les Buissonnets
, the home of the Martin family, one feels that ambience of
The Story of a Soul
. One perceives that
Monsieur
Martin, with his gravity, his respectability, his supernatural spirit, quite literally was the center of life in the Buissonnets, and that his daughters for a long time lived from the spiritual substance of
Monsieur
Martin, gravitating around his soul and receiving the heat of his spirit.
It is a curious thing but, for me, the
Buissonnets
speaks less of St. Therese directly and more of what she saw in
Monsieur
Martin. The strong presence there is that of
Monsieur
Martin, which is quite understandable since he was the master of the house.
What was presented with religious notes in the family of St. Therese displayed itself with notes of pure human affection in the romantic family. At any rate, that desire to love and cherish, which satisfies a need of soul, entered in this way.
In the next article we will look at the metaphysical type.
Continued
Posted August 9,, 2019