Faith under Attack
Earthquakes in Italy: Divine Punishment for Sins
Fr. Giovanni Cavalcoli, a Dominican in Rome, has caused quite a stir for the simple act of stating basic Catholic teaching. To the dismay of the Vatican and
Radio Maria
– a conservative station where Fr. Cavalcoli was a regular guest – he affirmed that the series of earthquakes in central Italy that started in August were "divine punishment" for "human sins." He signaled out as blameworthy homosexual sins, "in particular [gay] civil unions" which had recently been approved in Italy. He also referred to a punishment for "those who have re-evaluated the heretic Luther."
In May 2016 the Italian Parliament
gave final approval
to a law recognizing homosexual "marriages" and on July 23 the Prime Minister signed it into law. In late August the first civil unions took place. The first earthquake hit the Lazio, Umbria, Abruzzo and Marche regions on August 24, 2016.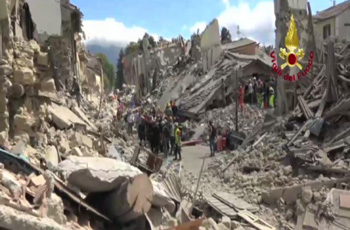 Whole villages destroyed by the earthquakes that have been hitting central Italy since August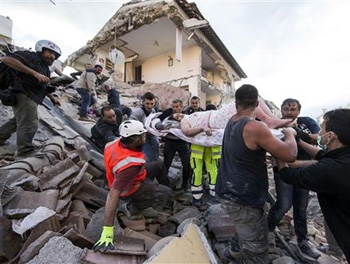 Fr. Cavalcoli made the comments on October 30, the day central Italy was struck by a 6.6 magnitude quake, felt all the way to Rome and Venice. Significantly, this quake destroyed the basilica of St. Benedict in Norcia, the birthplace of the 6
th
century saint, along with seriously damaging other churches.
Fr. Cavalcoli's judicious comments that ignited such a furor are interesting for two reasons:
First,
the Vatican quickly apologized to the homosexuals, to the earthquake victims, to anyone and everyone except God, who is offended by these noxious sins and unions that call to Heaven for vengeance.
Second,
I was surprised to realize how many U.S. Catholics were completely unaware of the earthquakes that have been shaking central Italy since August: three large ones and around
250 medium strength quakes
(with a magnitude of at least 4.0), according to Italy's National Institute of Geophysics and Volcanlogy. Distracted by the Trump vs Clinton race, Americans have not been paying attention to anything else.
The first massive quake in August killed 297 people in and around the town of Amatrice; altogether the earthquakes and their aftershocks have forced more than 150,000 Italians from their homes. And
it seems
that Italy should expect more to come.
Vatican strongly rebukes Fr. Cavalcoli
I return to the episode of Fr. Cavalcoli, a priest who deserves kudos for his courage to tell the truth and then stand by it, even though any "career" path is wrecked beyond repair.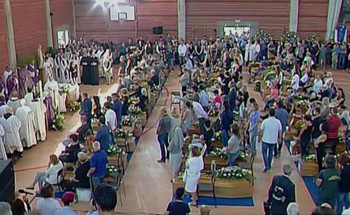 A funeral Mass for victims, above.
Thousands of Italians are living in 'tent cities' in safe areas outside their destroyed cities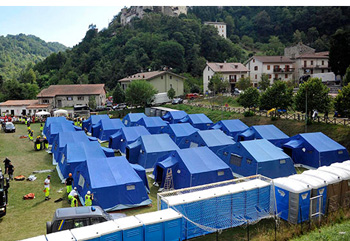 Commenting on the devastating series of earthquakes that have struck Italy, Fr. Cavalcoli said they were "divine punishment for the offense to the family and the dignity of marriage, in particular through [gay] civil marriages."
The Vatican jumped to condemn the Dominican theologian, the censure coming from the upper cupola of the Curia, Assistant Secretary of State Archbishop Angelo Becciu,
who said
the Dominican theologian's words are "not in accord with the Gospel" or the theology of the Church, "are offensive to believers and scandalous to those who do not believe," and "are contrary to the vision of God offered to us by Christ."
"Christ has revealed the face of God's love, not a capricious and vengeful God," Becciu continued in statements published in
L'Osservatore Romano
(November 6, 2016). "This is a pagan, non-Christian vision," dating from "the pre-Christian era. We can only ask forgiveness from our brothers affected by the earthquake tragedy." Fr. Cavalcoli's statements "are offensive for believers and scandalous for non-believers," he said.
Instead of retracting, the Dominican insisted that he had not spoken amiss: "I reaffirm everything. … From a theological point of view, these disasters are the result of original sin," Cavalcoli
said
. "We are in the presence of a divine punishment. The earthquake was a punishment for the sins of man […] and two men together represent a sin against nature."
"Earthquakes are provoked by the sins of men, such as civil unions. Read the Catechism." He added: "I've been a doctor of theology for 30 years … and I repeat that sins like homosexuality deserve divine retribution, which can be manifested in earthquakes."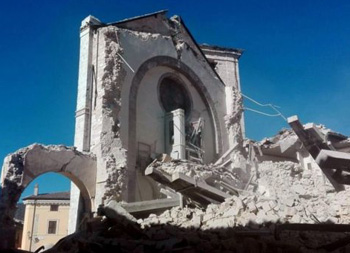 Only one wall stands of St. Benedict's Basilica in Norcia
His courageous and defiant response has won the admiration of many Catholics who are tired of hearing about mercy and fully expect that God's justice is due in a world that defies His Law so aggressively.
When the first earthquake of 6.6 magnitude hit in central Italy, homes began to shake in Rome. People ran out into the streets, many fell to their knees to pray. For persons who retain even a smidgen of faith and knowledge of the Catechism – and that number is sadly dwindling since Vatican II – the terrifying experience of natural disasters like earthquakes send them to their knees where they ask pardon for their sins and implore mercy from Heaven.
It is this natural Catholic sense of a just God who punishes mankind for transgressions that Fr. Calvalcoli reinforced in many Italians when he made his comments on the multiple earthquakes shaking Italy. But, instead of approving the Dominican theologian's warning and encouraging the people to pray for mercy from a just God, the Vatican rebuked him.
Justice and punishment have been wiped from the vocabulary of the Catechism; what is left in the post-Vatican II Church is just an obsessive and biased mercy. This in itself is a great injustice to the faithful and violates the age-old teaching of the Magisterium. Instead of giving the people bread, the Vatican is giving them stones.
Radio Maria quakes under Vatican rebuke
The Vatican official also had words for the messenger,
Radio Maria
, first rebuking it for past interviews where some comments were interpreted as anti-Semitic, then ordering it to "moderate the tone of its language" and follow Francis and the Church in the message of mercy, which is "the essence of Christianism".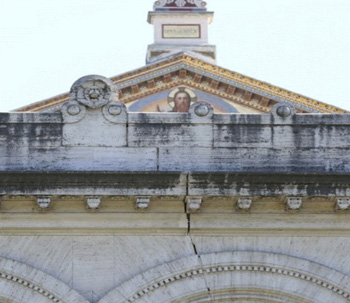 In Rome, the Basilica of St. Paul Outside-the-Walls, a center of ecumenism, was shaken and cracked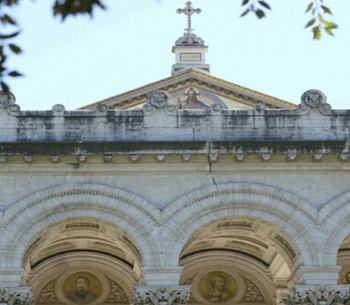 The subservient and shameful response of
Radio Maria
was immediate. First, it assured the Vatican and the world that the remarks of Fr. Cavalcoli reflected his own personal opinion and "absolutely does not reflect" those of the station. Then, it suspended the program of Fr. Cavalcoli. That is to say, it ran from the truth like a panicked dog with its tail between its legs.
The Dominican still did not back down from his statement. In an
interview
to
La Fede Quotidiana
, he stated, "I confirm everything I said about the earthquake." He continued: "What should I be excused for? Rather, they should amend and ask forgiveness on account of those who have re-evaluated the heretic Luther," referring here to the Vatican commemorations in Lund to celebrate the 500
th
anniversary of the Protestant heresy.
He expressed his surprise at the onslaught against him that his comments had caused, proof of today's lack of knowledge of theology, doctrine and the Catechism. "Catechism, Scripture and doctrine are all clear and no one is authorized to change them," he affirmed, "God sends chastisements, and this earthquake – like every catastrophe – is for our sins. God punishes man when he sins and does not repent. God's punishment is a response to the action of man. ... Sacred Scripture is filled with the chastisements of God."
Asked why the Vatican responded in this way, he lamented, "I worked there but today I bitterly see how everything has changed," pointing to a "Masonic infiltration." "Satan has entered the Church for some time and into the Vatican itself."
Will he apologize to the earthquake victims or sodomites? "I don't think so and I confirm again everything I said," the Dominican theologian replied. "If any apology should be made, it should be to Catholics for the re-evaluation [of Luther] and the confusion this has created."
My reader can view before and after pictures of the earthquake in central Italy
here
and aerial footage of the devastation
here
.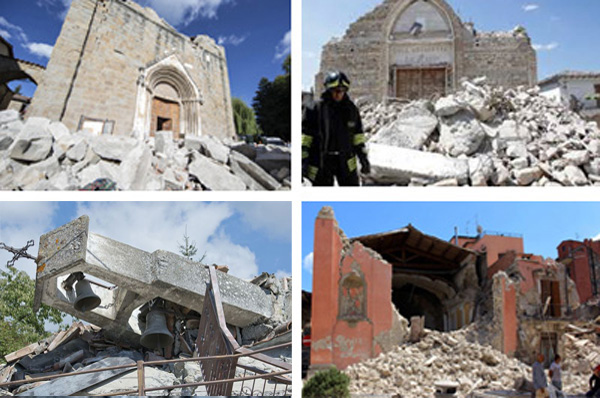 Churches were particularly hard-hit by earthquakes,
a sign of God's anger with abuses & heresies?

Posted November 11, 2016