Stories & Legends
A Forgotten Promise
From 1324 to 1327, there were at Cologne two Dominican Religious of distinguished talent, one being Blessed Henry Suso (1295- 1366). They shared the same studies, the same kind of life, and above all the same desire for sanctity, which had caused them to form a close friendship.
When they had finished their studies there, seeing that they were about to be separated when each would return to his own convent, they made an agreement. They promised one another that the first of the two who should die would celebrate two Masses every week for the other for a whole year - on Monday a Requiem Mass, as was customary, and on Friday, that of the Passion, if another major feast day of the liturgy would fall in the same day. They promised each other that they would do this and left Cologne.
For several years they both continued to serve God with most edifying fervor. The priest religious whose name is not mentioned was the first to be called away, and Fr. Suso received the news with sentiments of resignation to the Divine Will. As for the contract they had made, time had caused him to forget it. However, he prayed much for his friend, imposing new penances upon himself and many other good works, but he did not think of offering the Masses that he had promised when they were students at Cologne.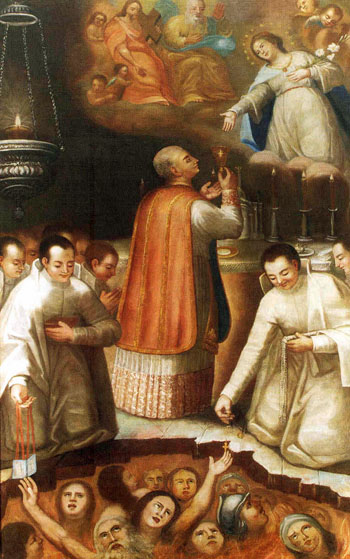 Masses give relief to suffering souls in Purgatory
One morning, while meditating alone in the chapel, he suddenly saw the soul of his departed friend appear before him. Regarding him with tenderness, this friend reproached him for having been unfaithful to his promise which he had a perfect right to rely upon with confidence. Fr. Suso, surprised, excused his forgetfulness by relating the many prayers and mortifications that he had offered, and still continued to offer, for his friend, whose salvation was as dear to him as his own.
"Is it possible, my dear brother," he asked, "that these many prayers and good works that I have offered to God do not suffice for you?" "Oh no, dear brother," replied the suffering soul. "These are still not sufficient. It is the Blood of Jesus Christ that is needed to extinguish the flames that consume me. It is the Holy Sacrifice that will deliver me from these frightful torments. I implore you to keep your word, and do not refuse me that which in justice you owe me."
Fr. Suso hastened to respond to the appeal of the suffering soul. He contacted as many priests as possible and urged them to say Masses for his friend's intentions and, to repair his fault, he celebrated, and caused to be celebrated, a large number of Masses that very same day. On the following day several priests, at the request of Fr. Suso, united with him in offering the Holy Sacrifice for the deceased, and he continued his act of charity for several days.
After a short time, the priest friend of Fr. Suso again appeared to him, but now in a very different condition. His countenance was joyful, and he was surrounded with beautiful light. "Thanks to you, my dear friend," he said, "behold, by the Blood of my Savior I am delivered from my sufferings. I am now going to Heaven to contemplate Him whom we so often adored together under the Eucharistic veil."
Afterwards, Fr. Suso prostrated himself to thank the God of infinite mercy, because he now understood more than ever the inestimable value of the Mass. This incident was related by Ferdinand of Castile in his
History of St. Dominic
.
Selected from F.X. Schouppe,
Purgatory – Explained, Tan Books, 1986, pp. 156-157
Posted November 9, 2013