Stories & Legends
The Statue Thanks a Merciful Knight
The Cantigas de Santa Maria (Songs of Holy Mary) are 420 poems with musical notation written in lyrical medieval Galician-Portuguese during the reign of Alfonso X El Sabio (the Wise) in the 13th century. They are often attributed to the King.

In every song a miracle or action of Our Lady is praised. These charming canticles reveal the great love of the Spanish people – both great and small – for the Virgin Mary. Here is one song, Cantiga CSM 207, short – as it meant to be a monophonic song to entertain the people while praising Our Lady's goodness.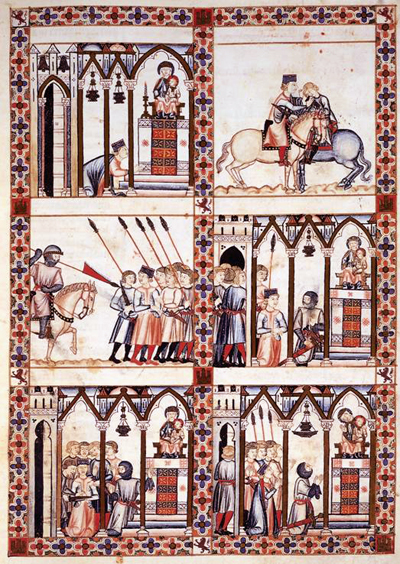 A knight, who was the loyal servant of the Virgin, had a son whom he loved dearly.
One day, another knight killed the boy.
The father, stricken with grief, seized the murderer.
He took him to the very place his son had been killed. He tried to kill the man, but he could not.
The knight took the man prisoner and entered a church.
As soon as he saw the statue of the Virgin, he released him.
The statue bowed and said, "Thank you."
Folio 19 recto of codex Florencia Ms Banco Rari 20
Posted September 23, 2017