Stories & Legends

Miracles in Spain - 2
The Charitable Pauper

The
miracle tales
of the 12
th
century priest Gonzalo de Berceo were extremely popular among the Castilian people and his compilation was considered one of the most important works of medieval Spain.
In his
Introduction
, he poetically writes that the trees that give sweet shade are the holy miracles that Our Lady performs. His aim: "I want to climb up into those trees for a little while and write about some of Her miracles. May the Glorious Lady guide me so that I may complete this task for I would not dare to undertake it otherwise.
"Indeed, I will take it as a miracle wrought by the Glorious One if She should deign to guide me in this work. Mother, full of grace, powerful Queen, guide me in it, for Thou art merciful!"
There was a poor man who lived off alms. He had no other income or revenue except on rare occasions when he worked; he had in his bag very few pennies.
To win the favor of the Glorious Lady, whom he loved dearly, he shared with the poor everything he earned. Doing this he strove and in this struggled; to win her favor he forgot his own needs.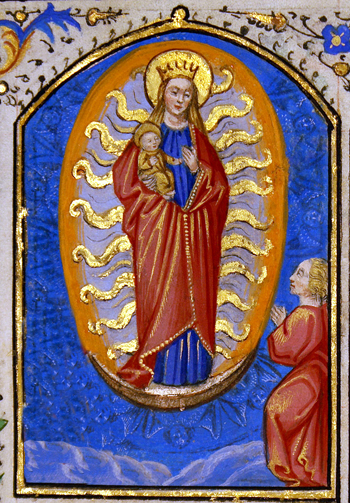 Our Lady comes to greet the Pauper at his last hour and conduct him to Heaven
When this pauper had to pass from this world, the Glorious Mother came to greet him. She spoke to him very sweetly. She wanted to praise him, and everyone in the town heard Her words: "You have coveted our company a great deal and have earned it quite skillfully for you have shared your alms. You have said '
Ave Maria.'
Indeed I know well why you did all this. Be assured that your job is well done.
"This day we are in is your last. Consider sung the
Ite missa est.
The time has come to collect your wages.
"I have come here to take you with me to the Kingdom of my Son, Who is indeed your friend, there where the Angels feed on good wheat bread; the Holy Virtues [choir of Angels] will be pleased with you."
When the Glorious Lady had finished this speech, the soul abandoned the fortunate body of the charitable pauper. An honored band of Angels took it and carried it to Heaven — God therefore be praised!
The people who had heard the voice at once saw the promise fulfilled. Each in his own way gave thanks to the Glorious Mother who is so prudent.
Unfortunate indeed would be the one who heard such a thing without being extremely pleased with Holy Mary. If he did not honor Her more, he would be impudent. The one who parts from Her is sorely deceived.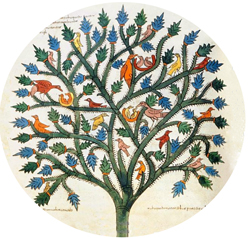 Adapted from Gonzalo de Verceo , Miracles of Our Lady ,
trans. by T. Mount and A. Cash, Un of Lexington Press, 1997, pp 40-41

Posted June 1, 2019