Stories & Legends
'The Black Lady' & the Queen

In the summer of 1854 an epidemic was ravaging Saxony and was spreading consternation in the bright city of Dresden.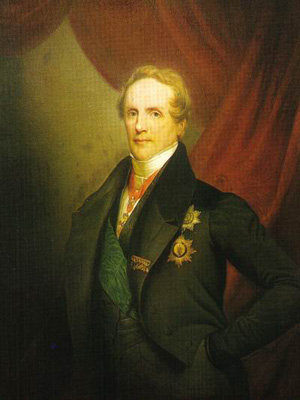 Frederick Augustus II, King of Saxony,
1797-1854
All who could do so departed hastily at the approach of the scourge, and the entire Royal Family, with the exception of the King Frederick Augustus himself, fled to the charming Castle of Pillnitz. The King's wife, Queen Marie Anna, daughter of Max Josef of Bavaria, extracted a promise from the Sovereign that he would follow them thither as soon as affairs of State should permit.
On the evening of their arrival at their destination, the Queen was sitting in the salon after dinner with her three ladies, one of whom was reading aloud. Suddenly the reader's voice died away and she stood transfixed, her eyes dilated as if staring at some terrible sight.
"What is the matter? Are you ill?" asked the Queen, whose nerves, like those of her companions, were already strung to the highest pitch of excitement and apprehension by terror of the disease.
The lady-in-waiting, regaining her self-control, managed to falter out an excuse for her strange behavior, but it was so manifestly inadequate that the Queen would not accept it. At last, under pressure of her questions, the still trembling woman described what had occurred.
As she was reading, she had happened to look up from the page, and, to her amazement, saw that where there had been but four persons present, including herself, there was now a fifth, slowly crossing the room behind the Queen.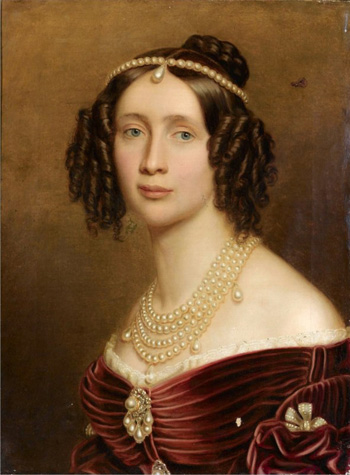 Queen Marie Anna received the warning of the 'Black Lady' – the family ghost
The newcomer was a tall woman whose face she could not see, but whose costume of full court mourning instantly attracted her attention on account of its sinister uniformity with the circumstances of those weeks.
The figure was entirely dressed in court mourning, a heavy veil concealed her head and face. She wore long black gloves and carried the regulation black fan.
The ladies were all terrified, and the poor Queen was completely overcome. Too often in the history of her family had the fatal presage of such visits been fulfilled.
"It is the Black Lady you have seen!" she moaned. "It is for me that she has come – I feel sure of it!" In fact, in the royal family of Saxony, this infamous ghost always announced the death of a member of the dynasty.
She passed the next few hours in agitation, which her attendants strove in vain to allay. But the call was not for her.
The next day brought a messenger from Dresden with the terrible news that the King had died in the night. The Black Lady had come not for the Queen but for him.
Adapted from Mrs. Hugh Fraser, A Diplomatist's Wife in Many Lands,
NY: Dodd, Mead & Co., 1910, pp.69-72

Posted November 21, 2020