Forgotten Truths
Dress Must Stress Moral Beauty

We continue to bring to our readers excerpts from an allocution by Pius XII about dress and fashion.

Today, he teaches that dress should stress the moral beauty rather than the physical beauty of the person. He also addresses the stability clothing should have and not change in each season as we see happening in our days.
Pope Pius XII
Independent of the use of dress to hide physical imperfections, youth asks from dress that it highlight the splendor that sings of the joyful springtime of life, and favor – following the norms of modesty – the necessary psychological presuppositions of forming new families [that is, young ladies can wear modest dresses that attract young men in order to marry them].
Mature persons, in their turn, look for an appropriate dress to surround themselves with an aura of dignity, seriousness and serene joy.
In any situation where one seeks to stress the moral beauty of the person, the form of dress must be such that it almost eclipses physical beauty in an austere shadow of modesty that moves attention away from the senses and, instead, concentrates the sight on the spirit. ...
Dress can express joy and mourning, authority and power, pride and simplicity, wealth and poverty, the sacred and the profane. The soundness of its expressive forms relies on the traditions and culture of this or that people, while its mutability should be as slow and stable as the institutions, characteristics and sentiments that the fashions interpret.
Pius XII, Allocution to the International Congress of High Fashion,
November 8, 1957, Petrópolis: Vozes, 1958, pp. 6-7.
Continued

Posted April 29, 2017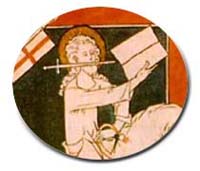 ______________________
| | | |
| --- | --- | --- |
| Volume I | Volume II | Volume III |
| Volume IV | Volume V | Volume VI |
| Volume VII | Volume VIII | Volume IX |
| Volume X | Volume XI | Special Edition |