Forgotten Truths
Fashion Must Never Be an Occasion of Sin

Pius XII analyzes how, in order to pervert customs, impure fashions are often mixed with honest aesthetic elements. He offers here an enligtening set of principles that can be very useful for our readers to know how to orient their way of dressing.
Pope Pius XII
The Church does not reprove or condemn a fashion when it is intended to be a fair decorum and adornment of the body. However, she never fails to warn the faithful against its easy deviations. This positive attitude of the Church derives from higher motives than the merely aesthetic and hedonist ends defended by a new paganism.
She knows and teaches that the human body,
a masterpiece of God in the visible world at the service of the soul
, was elevated by the Divine Redeemer to be a temple and instrument of the Holy Ghost, and must be respected as such.
Its beauty, therefore, should not be exalted as an end
per se
and still less as in a way that degrades that acquired dignity.
In point of fact, it is indisputable that, besides an honest fashion, there is another immoral one, which is a cause of disturbance – if not a stimulus to evil – to tranquil spirits.
It is always difficult to set out universal rules for the boundaries between honesty and immorality, since the moral evaluation of clothing relies on many factors. However, the alleged relativity of fashion regarding different times, places, persons and formations is not a valid reasont
a priori
not to issue a moral judgment about this or that fashion that transgresses the boundaries of a normal modesty.
Modesty, almost of itself, immediately sounds an alert to the presence of indecency and seduction, materialism and luxury – or even just frivolity. If the architects of the immoral fashions are skilfull in disguising perversion by mixing it with an ensemble of honest aesthetic elements, still more skilfull and quick is human sensuality to discover it and feel its fascination.
One who has sensitivity to discern the insidious character of evil should not be censured, as if this were an effect of an inner depravatity: on the contrary, such sensitivity is a sign of purity of spirit and vigilance over the passions.
No matter how broad and changeable the relative morals of fashion may be, when a danger is noticed,there is always an absolute norm to be maintained after having heard the admonition of conscience:
fashion must never be a near occasion of sin.
Pius XII, Allocution to the International Congress of High Fashion,
November 8, 1957, Petrópolis: Vozes, 1958, pp. 12-13.
Continued

Posted July 1, 2017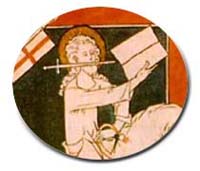 ______________________
| | | |
| --- | --- | --- |
| Volume I | Volume II | Volume III |
| Volume IV | Volume V | Volume VI |
| Volume VII | Volume VIII | Volume IX |
| Volume X | Volume XI | Special Edition |