Objections
There Is No Factual Evidence that
Newman Was a Homosexual
TIA responds:
Hello R.F.,
Thank you for taking the time to write your objection/refutation to Miss Salwa Bachar's article.
You stated that there is no factual evidence that Newman was a homosexual in the mentioned article. Please note the bold parts in your message, which we highlighted and were not in the original.
You selected the parts of that article that were advantageous to you.
You conveniently "forgot" two facts that speak blatantly against your thesis. To wit:
"When Ambrose St. John died, Newman threw himself on the bed by the corpse and spent the night there." This is not a personal opinion of a disputable author, it was a well documented fact reported by his sympathetic biographer Wilfrid Philip Ward (here).


Newman lamented that loss of Fr. Ambrose St. John saying: "I have ever thought no bereavement was equal to that of a husband's or a wife's, but I feel it difficult to believe that any can be greater, or any one's sorrow greater, than mine." This text is from a Newman's letter transcribed by Charles Dessain (The Letters and Diaries of John Henry Newman, Volume IX: Littlemore and the Parting of Friends May 1842 – October 1843. London: Thomas Nelson & Sons) here.


These two factual evidenses were duly referred to in Bachar's article,
The fact that you avoid dealing with these two pieces of evidence of a clamorous homosexual behavior can be due to two possibilities: In your rush to save your hero, you either really forgot them or you purposely avoided these items to escape addressing those facts. In the case of the last hypothesis, your behavior could be easily classified as dishonest.
But, to be kind, let us suppose your honest intention and that you passed too quickly over the mentioned evidences.
In this case – regarding the opinions of several authors mentioned in that article that you point out – our response to you is this:
You are apparently correct. Apparently there is no factual evidence in those opinions, but there are innumerable circumstantial evidences that lead any serious person to work with the possibility that Newman was a homosexual. This is why we at TIA work with this suspicion.
We say "you are apparently correct" because when a serious author writes a book or an article, his written opinion, published and offered to the public, is already a fact. You may dispute the truth stated in that publication, but you cannot honestly say that such a book or article is mere hearsay. When you try to lessen the weight of a written opinion, you show passion and superficiality.
The many authors both for and against homosexuality who write assuming Newman was a homosexual strongly increase this suspicion. This ensemble of opinions, which you also passed lightly over, shows that you are biased in your defense. The addition of Fr. Martin's opinion to this ensemble obviously strengthens that suspicion. But, again, you simply set aside Martin's opinion as irrelevant…
Your position might hold up in Civil Law, where a person is considered innocent until indisputable evidence is presented of his crime. In the Catholic Church, however, a person can be condemned not only by a heresy, but also by a suspicion of heresy. Analogously, we are condemning Newman for being not a proved practicing homosexual, but as under suspicion of being a homosexual.
All this being said, let us clarify that at TIA,
we do not affirm that John Henry Newman was a homosexual
;
we say that he could have been a homosexual
. But we sustain that this suspicion is enough to shut down the process of a valid canonization.
This is our answer to your main point.
Two other facts to which you referred are not objective as well:
You affirmed that the finding of Newman's body entirely pulverized does not prove anything. You are absolutely wrong. The situation of the cadaver after death – its state of corruption, its twisted position – was a factor that was taken into serious consideration for the process of beatification or canonization.

The fact that the body of Thomas à Kempis, author of The Imitation of Christ, was found twisted in his grave when it was opened years after his death raised the possibility that after he was buried he came back to life and went into despair. It was sufficient to stop his process of canonization, although he was a holy man and all his life was exemplary for Catholics. So, the fact that there were no remains of Newman's body should have raised analogous concerns and stopped his process of beatification.


You overlook the enormous amount of evidences showing that Newman opposed the dogma of Papal Infallibility and other doctrines of the Church. Check 17 cases here.

Card. Manning, Fr. Faber and Msgr. Talbot – conservative Catholics contemporaries of Newman – suspected one or another of Newman's writings and teachings as liberal. Msgr. Talbot went so far as to call him "the most dangerous man in England". You also ignore these facts. See here.

If you are concerned about the truth, you may read the stinging critique of John Henry Newman's Essay on the Development of Christian Doctrine by another convert Orestes Brownson, a respected Catholic scholar faithful to Rome. He noted the best thing to do with Newman's work was to bury it because "the theory he invented was essentially anti-Catholic and Protestant." You can read a summary of the critique here.

Contradictory, you, who are so demanding about providing proofs, forgot to give proof that he actually submitted to all the errors he defended in his life.

You also passed quickly over the fact that all the writings of any person raised to the honor of the altars must be unquestionably orthodox. This is absolutely unsustainable in the case of Newman.
Thank you for giving us the possibility to address once again this important topic.
Cordially,
TIA correspondence desk
Posted March 3, 2020
______________________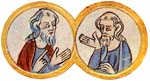 ______________________


______________________