Progressivism in the Church
Church Revolution in Pictures

Photo of the Week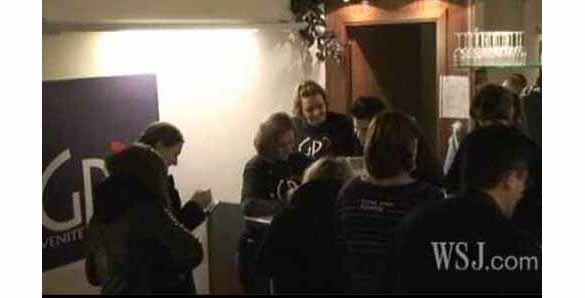 The Roman crypt nightclub
With the approval of his superiors, Fr. Maurizio Mirilli, head of youth ministry in Rome, opened a nightclub in the crypt of the Basilica of St. Charles Borromeo on Via del Corso in downtown Rome, just a few miles away from the Vatican. Mirilli's initiative is meant to attract youth to church, or at least to its basements... Indeed, while we do not agree with his method, we admit the crucial need. Ironically, after the Conciliar Church's adaptation to the modern world, its appeal to the youth has increasingly declined.

This Basilica, built in the 1600s, houses relics of St. Charles Borromeo, St. Ambrose and St. Olav. Its crypt is also the burial place for important Cardinals of the Church. Mirilli adapted it by raising some temporary walls to create space for a stage band, a bar, tables and a center dance floor.

The nightclub is named GP2 after John Paul II (Giovanni Paolo II in Italian). It is accessed by a side door that leads to the basement crypt. It is open every night from 7 p.m. to midnight, Sundays included.

When reporters from the Wall Street Journal visited the crypt on Saturday night, October 30, 2010, no disco lights were displayed and "Christian inspired" pop music was pulsing. The club serves wine and beer at competitive prices, but not hard liquor. "Being Catholic doesn't mean to be serious or sad," Fr. Mirilli explained. "Christian young people need to find a way to own the night again." According to customers they go to GP2 to "get to know" a girl at the church nightclub, rather than "pick her up"...

Asked about the approval of Benedict XVI for GP2, Fr. Mirilli answered: "This place wouldn't exist if the Pope weren't OK with it."

The photo above shows the bar in GP2; below first row, nightclub patrons enter through a side door and go down the stairs to the crypt; second row, the disco room under regular lighting; third row, a bar sign that says "Give me to drink" (Dammi da bere) - a play on Our Lord's words when He asked for water, interpreted to invite the youth to consume alcohol.

In the fourth row Fr. Mirilli shows the crypt chapels containing the bodies of Cardinals, just a few steps away from his nightclub; fifth row, a view of the splendorous interior of the Basilica; last row left, the façade of St. Charles Borromeo Basilica at night in the busy Via del Corso; at right, Via Condotti, the most fashionable street in downtown Rome some yards from the Basilica.
Posted November 7, 2010

Related Topics of Interest

Balloon Rock Mass in Vienna

The 'Banquet of the Lamb' in Rio

Cologne's Basilica Offers a Disco Display of Lights

Religious Service in Excalibur Discotheque in Austria

The New Orleans Jazz Mass

Carnival Mass in Wurzburg

Whipped Cream Orgy in Vienna

Frenetic Holy Week in Santiago, Chile

Rocking Passionist Priests

John Paul II, the Moral-Free Pope
Pictures | Home | Books | CDs | Search | Contact Us | Donate



© 2002- Tradition in Action, Inc. All Rights Reserved