Progressivism in the Church
Church Revolution in Pictures

Photo of the Week
Boston Archdiocese allows 'gay pride' Mass
Until 2007 one of the main gathering places in Boston for homosexuals was the Jesuit Urban Center (JUC), a ministry of the Church of the Immaculate Conception in Boston. That year the JUC was closed and its homosexual members were bequeathed to St. Cecilia Church. The JUC community was merged into that Church as the Rainbow Ministry. Recently, its current pastor, Fr. John Unni, planned a Mass for June 10 to celebrate 'gay pride' as part of the 'gay week' activities (June 3-12) in Boston.

Facing strong pressure from conservative and traditionalist Catholic blogs, the Archdiocese canceled that Mass.

A campaign was made by Fr. Unni and the members of the Rainbow Ministry to reverse the ban. Ceding to this new pressure, Archbishop of Boston Cardinal Sean O'Malley stepped back and allowed the Mass to be rescheduled, this time on July 10, 2011 (here and here).

Above, parishioners pray outside St. Cecilia Church to protest the ban. Below first, second and third rows, different shots of that same event.

In the fourth row, the Jesuit Urban Center participating in a 'gay parade' before it closed in 2007. Fifth row at left, Fr. Unni with Card. O'Malley; at right, the logo of St. Cecilia Church.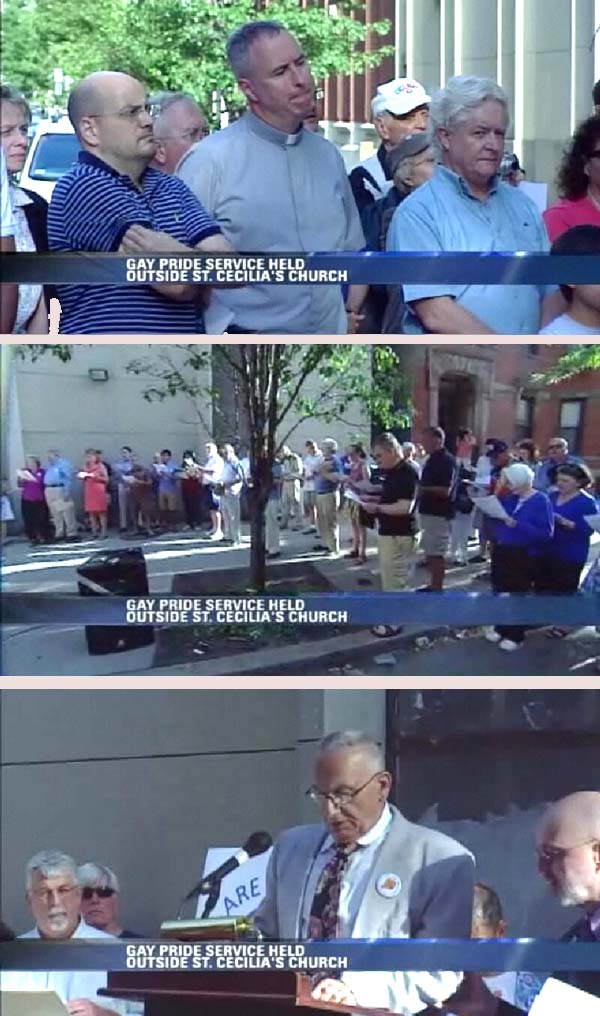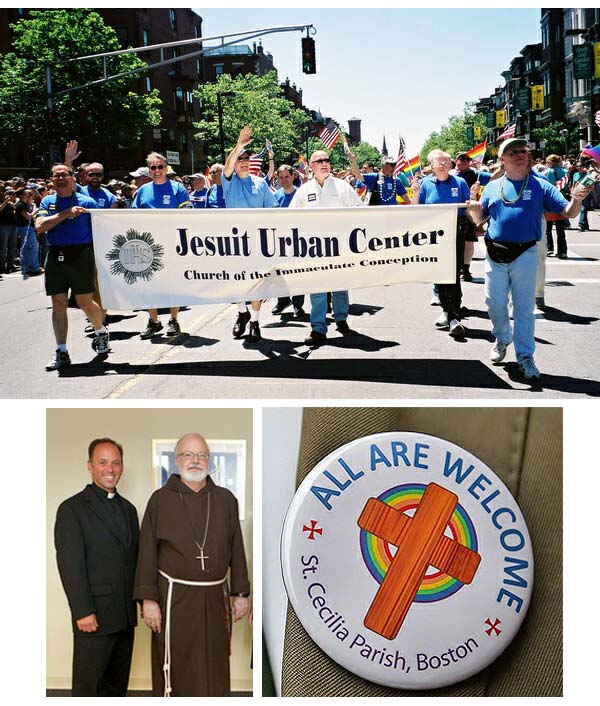 Internet photos
Posted July 3, 2011

Related Topics of Interest

The Ballerina Priest of Linz

Feminine-Looking Jesuit Dancing in Vienna

Brazilian Gay Priest Celebrates Epiphany

Catholic Priests in Gay Parade

Pedophile Bishop Resigns in Germany

A Vienna Rainbow Priest

Niederauer Desecration of the Eucharist

Most Holy Redeemer in the 2006 "Gay Parade"

Cover-up in the Austrian Scandal

Paul VI's Homosexuality: Testimony of Prof. Bellegrandi
Pictures | Home | Books | CDs | Search | Contact Us | Donate



© 2002- Tradition in Action, Inc. All Rights Reserved