Stories & Legends
St. Dominic Raises a Young Man from the Dead

While he was building his first monastery in Rome, St. Dominic preached at the St. Mark's Church. A noble Roman lady, Tuta di Buvalischi often went to hear his sermons.
One day she left her son who was very ill at home in order to hear the great Dominican Founder preach. When she returned home, she learned her son had died.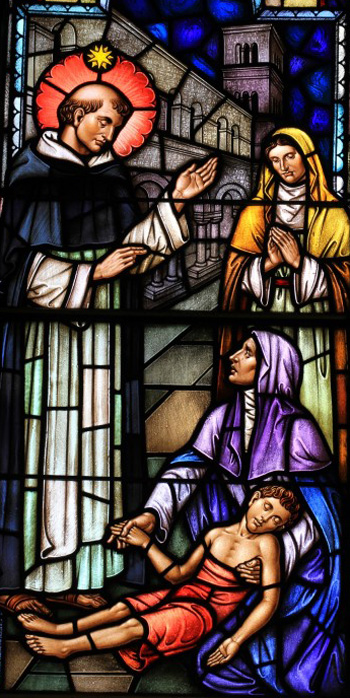 St. Dominic returns a woman's son to life,
St. Dominic's Church in Washington, D.C.
She instructed her servants to carry the child's lifeless body to the still unfinished monastery in search of St. Dominic. Finding St. Dominic at the door of the chapter house, she knelt at his feet and laid her son before him.
Dominic turned aside, prayed a few moments, then turned back to the weeping lady and made the Sign of the Cross over the boy. Then he took the youth by the hand and raised him to life. Even more, he was completely cured of his sickness.
Although St. Dominic instructed the lady not to tell anyone about the miracle, the news spread rapidly. When Pope Honorius III heard of it, he ordered that the miracle be announced from the pulpits of the city.
When he learned of this, Dominic implored him to rescind the order, fearing the deluge of people who would seek him out. The Pope did not rescind the order and, indeed, the churches where he preached overflowed with admirers.
The Romans so venerated him as a powerful intercessor with God and Our Lady that they would snip off pieces of his religious habit as he walked through the streets.
Several Dominican friars witnessed this miracle and gave testimony of it at the canonical proceeding for his canonization.
Often we find that God gives special graces to the Founders of great Orders, including the gift of raising the dead to life. St. Dominic de Guzman (1170-1221), founder of the Order of Preachers or Dominicans, raised three persons from the dead during his life, and yet others after his death.
Adapted from Albert J. Hebert, Saints Who Raised the Dead,
Charlotte, NC, TAN, 2012, chap. 16


Posted February 29, 2020