Right to Life
Shots Increase Risk of Myocarditis by 13,200%
A study conducted by the Centers for Disease Control and Prevention (CDC) revealed that the Wuhan coronavirus (COVID-19) vaccines
increase the risk of myocarditis
(heart muscle inflammation) by 13,200 percent.
It examined the effects of vaccination using the mRNA COVID-19 injections from Pfizer and Moderna, based on the CDC's Vaccine Adverse Event Reporting System (VAERS). The cases were then cross-checked to match the CDC's definition of myocarditis. A total of 1,626 cases of myocarditis had been examined.
According to CDC researchers, 105.9 myocarditis cases per million doses were recorded in the 16- to 17-year-old male cohort injected with the second dose. The 12- to 15-year-old male cohort, meanwhile, recorded 70.7 myocarditis cases per million doses following the second vaccine shot. Moreover, the 18- to 24-year-old male cohort also saw significantly higher rates of myocarditis for both the Pfizer (52.4 cases per million) and Moderna (56.3 cases per million) vaccines. (Related:
Large Nordic study finds that mRNA COVID vaccines increase risk of myocarditis
.)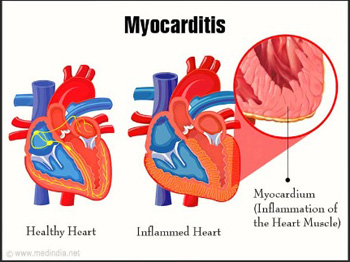 An unbelievable increase in this heart desease, principally among children &; youth
The study authors ultimately concluded that the risk of myocarditis after receiving mRNA COVID-19 vaccines should be considered in the context of the supposed "benefits" of vaccination.
The public health agency, however,
has doubled down
on its insistence that adverse reactions after vaccination are rare.
"COVID-19 vaccines are safe and effective, and severe reactions after vaccination are rare," said the CDC. "Most patients with myocarditis or pericarditis after COVID-19 vaccination responded well to medication and rest and felt better quickly."
The agency also pointed out that "reports of death after COVID-19 vaccination are rare," and that "reports of adverse events, including deaths, do not necessarily mean that a vaccine caused a health problem."
McCullough: Post-vaccination reports of myocarditis are far from rare
Texas-based cardiologist Dr. Peter McCullough, however,
disagreed with the notion
of myocarditis being a "rare" adverse event.
"In cardiology, we spend our entire career trying to save every bit of heart muscle. We put in stents, we do heart catheterization, we do stress tests, we do CT angiograms. The whole game of cardiology is to preserve heart muscle," McCullough said in a statement to the Epoch Times.
"Under no circumstances would we accept a vaccine that causes even one person to sustain heart damage. Not one. And this idea that 'Oh, we're going to ask a large number of people to sustain heart damage for some other theoretical benefit for a viral infection,' which for most is less than a common cold, is untenable. The benefits of the vaccines in no way outweigh the risks."
Given the plethora of studies confirming a link between vaccination and myocarditis, the CDC has started active surveillance of adolescents and young adults to monitor their progress following heart-related incidents after vaccination. Long-term outcome data, however, are not yet available.
Meanwhile, the American Heart Association and the American College of Cardiology have advised that people with myocarditis should refrain from competitive sports for three to six months, and only resume strenuous exercise after a normal ECG and other test results are obtained. They have also advised that further mRNA vaccine doses should be deferred.
Head over to
VaccineDamage.news
for more stories about the adverse effects of COVID-19 vaccines such as myocarditis.
Watch Dr. Peter McCullough explain how the mRNA COVID-19 injections cause myocarditis below.
This article was first published on VaccinesDamage.News
on November 28, 2022, under the title:
"CDC study: COVID-19 mRNA shots increase risk of myocarditis by 13,200%"

Read other articles by Olivia Cook here

Posted December 9, 2022