Documents for your files
PROGRESSIVIST DOCUMENT OF THE WEEK
Card. Bergoglio, a Member of the Rotary Club
A document recently released in Argentina gives evidence that Card. Jorge Bergoglio was a member of the Rotary Club in Buenos Aires.
As it is known, the Rotary Club, like the Lions Club, are para-Masonic institutions used by Freemasonry to recruit members and spread its ideas. Both clubs pratice religious indifferentism, profess a vague Deism and oppose the Catholic Church in her affirmation that she is the only true religion.
Before Council Vatican II, the Church strongly advised her faithful not to enter the mentioned clubs. Today, with the Masonic-friendly Conciliar Church, many Prelates enter those clubs, as did Card. Jorge Bergoglio.
Below
is a photocopy of the letter by Card. Bergoglio thanking the Rotary Club directors for confirming him as an Honoray Member. This document is preceded by our translation from the Spanish
in blue
.
Archbishopric of Buenos Aires

Prot. N. 753/99
Buenos Aires, July 26, 1999

To Señor JUAN CARLOS BECCIÚ
President of the Rotary Club of Buenos Aires
San Martíin 969 P. 8
1004 – Buenos Aires


With my distinguished consideration:

I am particularly pleased to address you, Mr. President, to acknowledge receipt of the kind note dated 23 of this current month that you, along with the Honorary Secretary, sent me, in which you confirmed me as a Honorary Member of this prestigious institution.

I deeply thank you for this kindness and simultaneously congratulate you for the outstanding work you carry out for the good of the community.

Repeating my expressions of cordial esteem,

Msgr. Jorge Mario Bergoglio
Archbishop of Buenos Aires
Primacy of Argentina


[[Note from the Rotary] As an Argentine institution, we have sent congratulations to our ex-honorary member who was given the "Argentine Award for the Person of the Year 2005," Monsignor Jorge Bergoglio, today Pope Francis.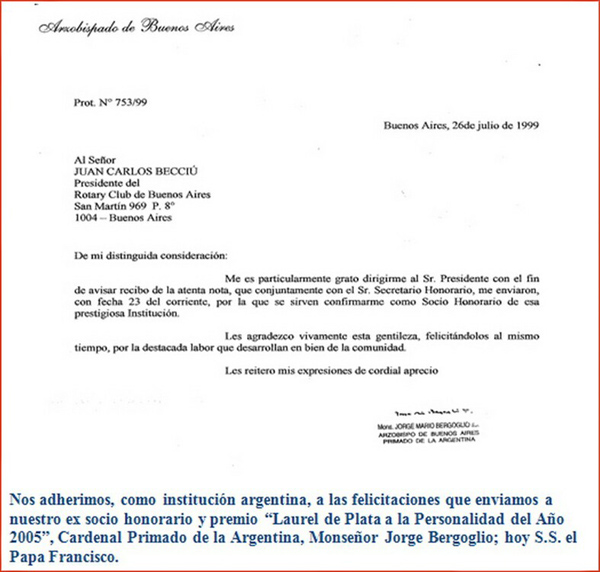 To enlarge the document above click
here
Credit to
Radio Cristiandad
, posted on September 17, 2013
Posted on September 21, 2013