NEWS: October 31, 2018
Bird's Eye View of the News
CHECKING OUT BERGOGLIO'S FORMATION –
When, as editor of the TIA site, I was reading the
excellent article
by Dr. Marian Horvat on the Vatican-China agreement to bury the heroic Underground Church, I suggested that she include the fact that Francis had a Marxist influence in his formation. Before the article was posted, I went to search for a documentary source proving that affirmation. This is how I came upon an article in
The Guardian
by Uki Goni that gave many details on the close relationship between Jorge Bergoglio and Esther Ballestrino Careaga, which I believe should be passed on to my readers.
The data from
The Guardian
led me to further confirmations. So, now I have a full fan of different sources reporting the history of that relationship. The information I found certainly will help readers to better understand Jorge Bergoglio, the man chosen to replace Benedict XVI and who to this day counts on his full support.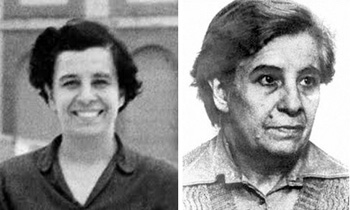 At left, Esther Ballestrino Careaga in her 40s; at right, at age 59 before her death
In 2015 Pope Francis received the daughters of his Marxist tutor, Esther Careaga, during his visit to Paraguay and told them that he owed a part of his formation to her. Soon after their meeting with Francis in Assunción, Esther's daughters Ana Maria and Mabel Careaga confirmed what he had stated: "He told us that our mother had taught him to think. This is very strong." (
El Pais
, July, 12, 2015)
Another source reported that when he received the two daughters, he greeted them saying: "She taught me to think, she introduced me to social unrest." (
La Stampa
, July, 12, 2015)
In a long interview Francis gave to Sergio Rubin and Francesca Ambrogetti, he mentioned his work with Careaga in the laboratory: "There I had an extraordinary supervisor, Esther Ballestrino de Careaga, a Paraguayan sympathetic to Communism … In truth, I owe a lot to that woman." (
apud Tierras de America
, July 16, 2015)
A bit of history
It was around 1953 or 1954: Ballestrino Careaga, who had a Ph.D. in biochemistry, was working as a head pharmacist in Argentina for the Hickethier Bachmann company. Bergoglio joined her laboratory team as an apprentice at age 17, before he entered the seminary. She was a known Marxist.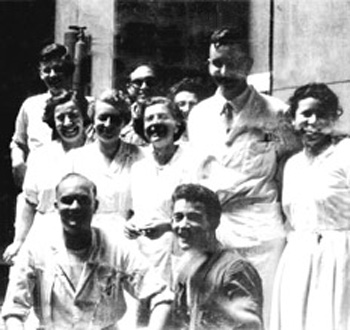 Careaga, second from the left, had a strong influence over young Bergoglio, second from the right
In 1947, she had gone to Buenos Aires as a political refugee from Paraguay, where she had been a fiery communist orator. "She toured the villages in the countryside of Paraguay pleading for people's right in general, but especially the rights of women," her daughter Ana Maria reports. (
The Guardian
, December 11, 2013)
Esther, who was born in Uruguay, became a communist activist in Paraguay where she was a member of the socialist February Revolution Party (PRF) and a founder of the Women's Movement of Paraguay. In Argentina she married another Paraguayan refugee, PRF leader Raymundo Careaga, had three daughters and gave them a thorough Marxist formation. Strongly opposed to the military government, she was one of the founders of
Mothers of the Plaza de Mayo
, an anti-government movement that demanded information about the disappearance of many young men – most of them communists.
There are strong indications that Esther Careaga maintained a close friendship with Ernesto
"Che"
Guevara. (
Portal Guarani
, 2011)
In 1977 she went to the
Buenos Aires Herald
– an English-written newspaper whose journalist Uki Goni later provided these details in
The Guardian
– to report that her daughter Ana Maria had been kidnapped by government security agents. The
Herald
made the case public and Ana Maria was released after four months of detention.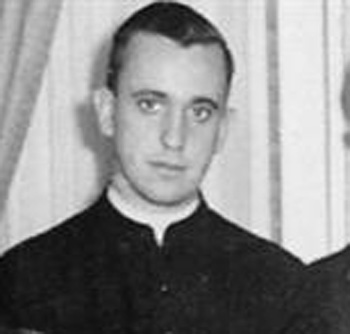 Bergoglio abandoned his chemistry career due to a lung illness and entered the seminary
Goni and Esther Careaga stayed in contact and, shortly before she disappeared – also kidnapped by security agents – she told him that she had called the then Fr. Jorge Bergoglio asking him to administer the last rites to a dying relative. This struck her long-time friend as unusual because he knew that she and her family were atheists.
Arriving at Careaga's house, Bergoglio discovered that she had used that pretext to ask a favor of him. Daughter Ana Maria stated: "My parents had a large library of political books – works on Marxism and philosophy – and she asked him to hold them in safekeeping." Fr. Bergoglio agreed to do so, even under the risk – if he were found with that library – of facing the accusation of being a communist. (
The Guardian
, December 11, 2013)
Bergoglio held the works in custody and returned them to Careaga's daughters some four decades later, as they revealed in an interview to Lucia Capuzzi from the Italian newspaper
L'Avvenire
in 2015. In fact, he hid the Marxist library in
Maximo Colegio
, a Jesuit university in San Miguel, Argentina. (
Sputnik News; Tierras de America
, July 16, 2015)
Esther Careaga disappeared in late 1977; in December her body was found at the beach resort of Santa Teresita along with those of four other women. Killed by security agents, they were all buried in anonymous graves. Later, in 2005, a forensic anthropologist dug up the bodies and found out they were the last remains of Esther Careaga, a French nun and three other women leaders of the
Madres de la Plaza de Mayo
.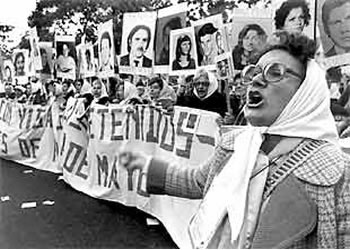 The Mothers of the Plaza de Mayo complained about their youth kidnapped by the dictatorship
Although these murders were unjustified and highly condemnable since the victims were not given the right to defend themselves in a regular court, it is clear that they were done away with because they were considered dangerous communists.
Luis Bianco, the son of one of the dead women, went to Bergoglio – then Archbishop of Buenos Aires – to ask his permission to bury the victims in the gardens of Holy Cross Church, home of the Irish community in the city of Buenos Aires where they all had been kidnapped.
When he learned that one of the bodies belonged to Esther Careaga, he consented with emotion. "Careaga was a good friend and a great woman, and I'm sure your mother was the same," Bergoglio told the son of Maria Bianco, one of the five women who had shared the same ideology and death as Esther Careaga.
Within a week Careaga and the other women were buried on the grounds of Holy Cross Church.
Francis never stopped following Careaga
Ana Maria, daughter of Esther Careaga, expressed well the influence of her mother's communist ideas on Jorge Bergoglio, today Pope Francis I. She said:
"My mother left a flood of influence on the young adolescent who was Francis when he knew her. We understand that these waves are present in the ideas he spread during his visit to Latin America [in 2015]. We see them in the denunciation he made of the exhaustion of the capitalist system, the danger of the monopolistic media and the need to transfer it to the hands of the poor, a continuation of the ideas of my mother and the militants of the '70s." (
El Pais
, July 12, 2015)
Thus, we can better understand why Pope Bergoglio consistently favors Communism – as he did in the China-Vatican agreement. It is because he continues to admire those communist ideas he received in his youth.
______________________
| | | |
| --- | --- | --- |
| Volume I | Volume II | Volume III |
| Volume IV | Volume V | Volume VI |
| Volume VII | Volume VIII | Volume IX |
| Volume X | Volume XI | Special Edition |